The cheat's guide to being a nature 'expert'
This blog has been recently updated.
With so many native British species it's hard to be an expert on everything – even here at Springwatch HQ we rely on books, experts and the internet to help us make sure we are on the right track.
So here are some handy online tools that can help you impress your friends, family and colleagues with your 'expert' wildlife knowledge. We won't tell if you don't...
What's that bird?
In the UK there are hundreds of species of birds, and those can constantly change too… some stay with us year round, some leave for warmer shores for winter and some migrate here to escape even cooler climates. So where to you start? The RSPB has an excellent tool which it calls "bird identifier", where you can track down the species you have spotted on a country walk, on your lunch break or in the garden.
The tool is intuitive to use; it begins with selecting the rough size of the bird they have spotted from several options; from robin-sized to larger than a mallard. From there you can narrow down the search to select the area you spotted the bird in, what its feathers looked like and what kind of beak it had.
Handy picture guides help would-be spotters to work out what they have seen - and direct them to a page where they can find out more. The page is mobile friendly too - handy for those countryside walks!
Find it online here.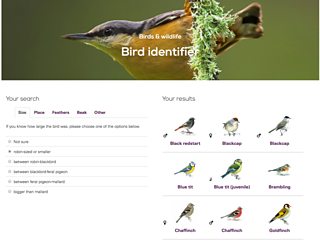 The RSPB bird identifier app can help track down different British species using information about their characteristics. Credit: RSPB
What is that tree?
On a woodland walk it can sometimes be hard to tell the wood from the trees – but The Woodland Trust's app can help you differentiate your hazel from your hawthorn, and your alder from your ash.
It is easy to use and includes plenty of information about the different species of tree found in Britain.
Users can identify trees by their features such as leaves, branches or fruit, or you can browse through an A-Z of British trees.
The app allows you to save your 'favourite' trees, and also tells you about their features and threats they face.
Get it on the App store or at Google Play
Is that a butterfly or a moth?
With only around 50 species of butterfly in the UK, they are a great place for the enthusiast amateur to start… but if you add in the 2500+ species of moth found here then it can get pretty bewildering in no time!
Fortunately Butterfly Conservation have produced a fantastic tool that allows users to work out what species they've spotted. While it's not an exhaustive list of species, the tool does cover the majority of the UK's common species.
Now there's no excuse not to know your snout moth from your shark moth.
Find it here.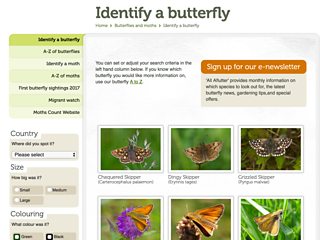 What is that reptile?
With only six native species of reptile living in the British Isles, they're probably one of the easiest of our native groups to get on top of.
However, if you're a beginner - or just keen to know a bit more then this resource from the Amphibian and Reptile Conservation Trust is a good place to start.
Do you have a favourite tool to ID wildlife? Let us know on Facebook or Twitter.
Post image by Peter Allan
The BBC is not responsible for the content of external sites.