By Helen Bostock, Senior Horticultural Advisor at the Royal Horticultural Society (RHS)
A healthy pond will support more garden wildlife than any other garden feature – from damsel and dragonflies to frogs and newts. But what borders it can be just as important; providing vital shelter for these all important visitors and helping to attract other wildlife into your plot.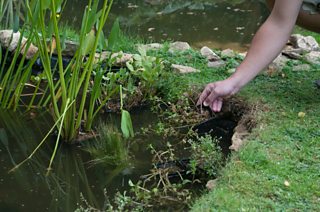 What's around your pond is often just as important as the pond itself. Photo by Tim Sandall/RHS.
To support as many wildlife as possible at your water's edge, here are some ideas you might consider:
Leave at least some of the grass edging around your pond to grow long, especially where the pond forms a 'beach' or other accessible shallows. This is an excellent way to help newly emerging frogs, toads and newts find cover from predators as they take their tentative first steps onto dry land. Long grass also serves as an important feeding ground for slugs and snails - an important source of food for amphibians as well as thrushes and hedgehogs – and when located along the base of a hedge or wall, make great sites for ground-nesting bumblebees.
Mowing fortnightly will still let low-growing plants, such as daisies, flower and once a month will see buttercups and yarrow flower, attracting pollinating insects such as bees and hoverflies. You can also try enhancing your lawn with wildflower mini-plants (plug plants) such as knapweed, bedstraw or ox-eye daisy. Cut the grass first to give them a head start and keep well watered.
If you opt to let your grass grow all summer, always keep edges and access paths mown, helping to maintain all-important structure, provide easy access and enable you to get up close and personal with the wildlife inhabiting it.
Or, if your grass is naturally short and patchy, fret not – bare patches are readily used by solitary mining bees who create little 'volcanos' of soil, each with a tiny hole in the top. Grass on sunny banks – which is, after all, hard to mow – is the most attractive to these pollinators.
Leave a buffer around ponds of a metre where no fertiliser or weedkiller or other pesticide is used and avoid bare soil near the pond that might be washed into the water. Garden soil is rich in phosphorus that will promote unsightly algae that won't benefit wildlife.
Some ponds might have paving around the edges. This can become warm enough in hot weather to harm amphibians – consider placing some containers grouped to provide a moist shady corridor leading to vegetation.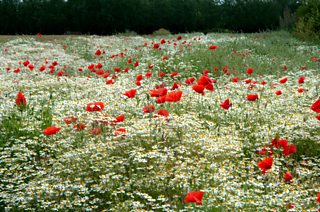 You can enhance your lawn with wildflowers like poppies and ox-eye daisies. Photo by Tim Sandall/RHS.