In winter, wetlands come to life with over-wintering birds filling the skies, their reflections intensifying their vast numbers. They're also full of hidden charms ready to be discovered, if you take the time to look closer at humble mosses or footprints in the mud, or watch a duck glide across a glassy pool.
But what is it about water, and wetlands, that make them such soothing places?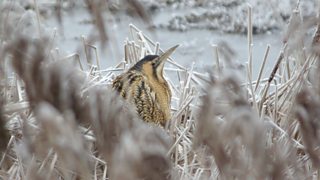 Bittern by James Lees WWT
The healing power of water
"I suffer from anxiety and when you go by the water you feel much better." – These words were in the headlines recently, as two women in Derbyshire sought out a reservoir for their daily exercise. They echo what many feel innately: that when we're by the sea, river, lake, or garden pond, our pulses slow and we feel a sense of peace, more able to deal with the stresses of the pandemic and the modern world.
It's impossible to imagine human life without water. For generations people have been drawn to art featuring water, from Monet to Turner and Hokusai. We're constantly reminded about drinking more of it in order to be healthy. And that's not the only health benefit – there's good, and frequently reported, evidence that people who live near coasts reported higher levels of wellbeing, reduced negative thoughts and levels of stress.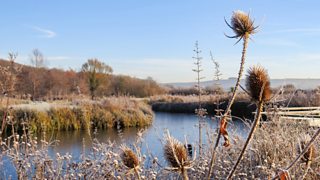 Image by Pat Warren WWT
WWT research at London Wetland Centre reported that just 10 minutes in urban wetlands was enough to record positive changes to wellbeing and that the benefits are likely to be greater for those who consider themselves more stressed.
And you don't necessarily need to physically be there to experience the positive effects: during the first lockdown, WWT Washington created their own version of the Watches' 'mindful moment' videos, as many of their regular visitors were missing the calming effect of being close to water, wildlife and their community of fellow nature lovers. Many of the viewers reported that it helped them feel better and more connected with nature.
Enjoying wetlands on your local patch
If you are able to get to some watery places safely and locally, here are some tips for getting the most out of them in the winter months.
Enjoy the sky
Instead of looking down, look up. From horizon to horizon, make the most of the clear view of spectacular sunsets and sunrises by going out earlier or later – you'll also beat the crowds. The reflective water means wetlands are also ideal for cloud watching, slowing down and enjoying their mesmeric qualities as they scud across the sky and the water's surface in tandem.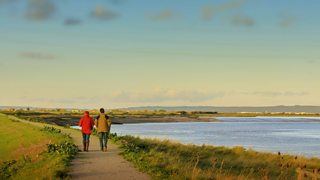 Image by Adam Freeman WWT
Night time adventures
Spending time in nature can be a totally different experience at after dark. Wetlands are incredible places at night, where the moon shines bright as geese fly across the moon and some wildlife are more active. Check the weather forecast and choose a clear night. Grab your coats (it's cold out at the moment) and go where most cameras can't. Just make sure you don't disturb sleeping creatures!
Helping nature in winter
Helping nature is a great way to feel a part of the natural world. Birds and wildlife need food in winter too. If you are out for your daily walk, ducks and geese are great birds to feed from your hand.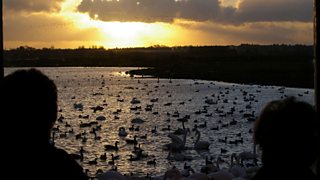 Image courtesy of WWT
How can more people access wetland nature?
WWT has been working on a project called 'Blue Prescriptions' due to be launched at Steart Marshes in 2021, a wetland-based health programme intended as an alternative or complementary treatment option for people experiencing mental health issues.
But bringing people to our wetlands is just one of the ways we can help people. We can also create blue spaces in urban areas, building ponds or rain gardens that harness the water falling on roofs and tarmac.
According to the UN 68% of us will be living urban lives by 2050. Many of us watch the Watches to enjoy the sights and sounds of a natural world that isn't always easily accessible, a window into the wilderness that has only become more important as we remain in our homes. So more local communal wetlands might make all the difference.
As Peter Scott, WWT founder, puts it: 'In the crazy world of today, when the human race seems so little able to control its destiny, when crises and depressions follow each other in mad succession, the need for escape is more urgent and the call of wild places more insistent than ever.' Wild Chorus, Peter Scott 1938, P1.
If you're missing nature, why not visit WWT's website where you can be transported to our wetlands, as well as find more tips for making the most out of nature in the winter months produced in partnership with the Mental Health Foundation.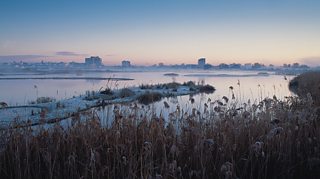 WWT London image by Martin Senior