By Barnaby Smith, Bumblebee Conservation Trust
A regular question we get asked at the Bumblebee Conservation Trust is "How are the UK's bumblebees doing?" It seems such a simple question that you'd think demands a simple answer, but like most things in life, it's actually a lot more complicated!
In the last 80 years, UK bumblebee populations have crashed and two species have become extinct. In recent years a huge amount of effort has been put into bee-friendly planting, agri-environment schemes for farmers, and bumblebee-specific habitat conservation. The overall aim of all this work is to bring back the wonderful buzz of bumblebees in both urban and rural areas.
But the key question is, has all this activity made a positive difference?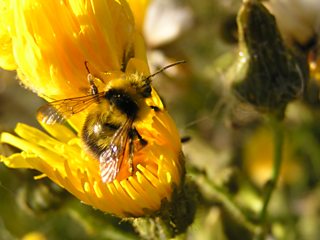 Heath bumblebee (bombus jonellus). Photo by Nick Owens
One of the best ways to find out how our 24 UK bumblebee species are doing is to collect regular bumblebee records from across the UK. In order to do just this we started our Bumblebee Conservation Trust BeeWalk programme just over a decade ago with the goal of reliably evaluating trends in British bumblebee populations. Around 500 'BeeWalkers' walk a regular route 1-2 km in length a minimum of once a month between March and October (the main bumblebee flight season), ideally between 11am and 5pm on days with minimal wind or rain.
The 'BeeWalkers' are mainly citizen scientists supported by our science and conservation staff and they all use a standardised methodology to ensure accurate and comparable data is gathered. Most routes take in some flower rich habitat, and all are discussed and planned with our central BeeWalk team run by our science manager, Dr Richard Comont. By the end of 2018, 382,563 individual bumblebees had been recorded over nine years of BeeWalks!
The latest BeeWalk results are out this week, covering the 2010 to 2018 data, and they're very interesting. Several of our rarer bumblebees, including the brown-banded carder bee (bombus humilis) and what is possibly the UK's rarest bumble, the shrill carder bee (bombus sylvarum), are doing relatively well, but some of our more common bumblebees such as the garden bumblebee (bombus hortorum), the buff-tailed bumblebee (bombus terrestris), the heath bumblebee (bombus jonellus), and the white-tailed bumblebee (bombus lucorum aggregate) have declined over the last nine years.
As you might expect, the heat and cold of the extreme weather in 2018 meant last year was a tough year for many bumblebees species. In particular, the impact of the 2018 heatwave has raised concerns about the number of bumblebee queens that made it into hibernation over the 2018 to 2019 winter. 2018 was the worst year for bumblebee abundance - the number of individuals per species – recorded by BeeWalk since 2012 and this could have a potential knock-on effect on populations in 2019. The likelihood of long heatwaves like 2018 becoming more frequent could potentially cause problems for Britain's bumblebee populations in the longer term.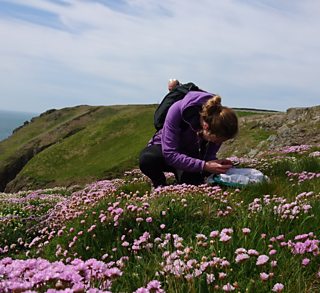 Surveying bumblebees on a BeeWalk on Lundy Island, Devon
As BeeWalk develops, it's becoming a unique and fascinating dataset that allows us to see patterns and trends that we can't get anywhere else. It's fantastic that almost 500 people go out every month from March to October to survey bumblebees. Their hard work gives us an unparalleled ability to understand exactly how bumblebees are doing across the UK, vital evidence that with talk of global "insect declines" will become increasingly more important.
If you'd like to become a 'BeeWalker' please give us a call at the Bumblebee Conservation Trust and we'll provide support and help with bumblebee identification. We're especially keen to recruit more BeeWalkers in Devon & Cornwall, the Welsh mountains, the Scottish highlands & islands to capture data on the rare and beautiful great yellow bumblebee, northern England (Cumbria & Northumberland) and north-east England (Lincolnshire & Yorkshire) but you can 'BeeWalk' almost anywhere in the UK.
The Bumblebee Conservation Trust is a UK based charity that was established in 2006 due to serious concerns about the 'plight of the bumblebee'. We're very grateful to all BeeWalk supporters, the members and supporters of the Bumblebee Conservation Trust, and financial contributions from the Redwing Trust, Esmée Fairbairn Foundation, and Garfield Weston Foundation.
To find out more, head over to the Bumblebee Conservation Trust website