There's a lack of data on what ordinary people think, feel and want in developing countries. Our new Data Portal aims to help fix that. Sonia Whitehead runs through five questions the portal can help answer on governance, media and resilience.
The development world is all aflutter about data. There's much talk of a data revolution, the sector's hiring data scientists and the World Bank just launched a new podcast to 'data crunch the world'.
Not to dampen all this excitement but we need a lot more data about people in the Global South before it can become a transformative force there. Addressing this lack of data will speed up progress on everything from gender to alleviating poverty.
Enter our new Data Portal (view on desktop), which brings together data, reports and visualisations from surveys conducted in 13 developing countries that there aren't a lot of statistics about. Over five years, we asked more than 75,000 (rarely polled) people about what they think, feel and want. The portal covers a range of issues from what they're most worried about to how interested they are in politics.
We want these insights to help development leaders, practitioners and researchers better understand ordinary people in the developing world so they can produce more effective strategies, projects and communications.
To mark the launch of the portal, we run through five questions that it can help answer on governance, media and resilience, while also showcasing the different types of content available on the portal.
1. What sources of information do people trust?
Being a media organisation, we wanted to know whether people believe what they hear on the airwaves, see on TV and read online. We found that trust levels in radio are universally high, at over 80% in Kenya, Nigeria and Myanmar, and reaching 90% in Nepal.
However, people are more circumspect about the truthfulness of the internet, with the Burmese especially sceptical, which is concerning given that half of Myanmar's internet users say they go online in order to read the news.
To illustrate these (and other) insights into what media people think of different sources of information, we produced a series of visualisations – some of the ones for Kenya are previewed below (media visual available here, governance one here):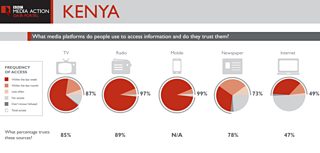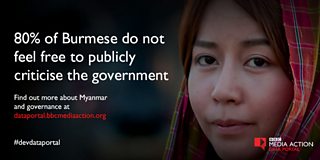 Nepal is the only place we looked at where a majority (65%) feel at least somewhat able to criticise those in charge. Nigerians are the next most comfortable with openly complaining about their leaders, a little over 40% say they could – though only half that number felt very liberated to do so.
3. Who are the keenest voters?
In six countries, we also asked whether people had voted in the last general election: Bangladesh, Myanmar, Palestine, Sierra Leone, Tanzania and Nigeria.
Sierra Leone came out top, with 90% reporting having voted in the last general election, closely followed by Myanmar at 87% and Tanzania at 86%. (A quick note – we conducted our Burmese survey in 2016, after the victory of Aung San Suu Kyi's National League for Democracy in 2015.)
Turnout was lowest in Bangladesh and the Palestinian territories, where 42% and 45% respectively said they'd cast a ballot in the last national election.
Of course, people don't just get involved with public life through voting. Meetings, protests, and various forms of communication are all types of political participation. The Sierra Leone visualisation previewed below shows that while only a small proportion of people have been in touch with government officials, nearly two thirds have teamed up with others in their community to solve a problem.

In a country with over 100 ethnic groups, 97% of people in Myanmar believe that peace relies on mutual respect between people from different ethnic, religious and social groups. Similarly in Nigeria – which has wrestled with religious divides – nine tenths of the population believe that people from different backgrounds have 'more in common than they think'.
However, a large majority of both Nigerians and Burmese feel that some differences between groups are 'just too difficult to overcome'.
5. How are people adapting to environmental change?
Building on our Climate Asia project – which examined 33,500 people's everyday experiences of climate change – we've more recently asked Tanzanians and Bangladeshis about how they're coping with changes to the world around them.
In the drought-ridden areas of Dodoma and Morogoro in Tanzania, more people think agricultural productivity has decreased than increased over the past ten years. They are split as to whether rainfall is higher or lower than it was a decade ago.
Getting their information predominantly from the radio, Tanzanians are making some – though not a lot – of changes in light of the environmental challenges they face. Popular responses include keeping food for longer and finding new water supplies.
In Bangladesh, rainfall, temperatures and extreme weather are all commonly seen to have increased in the past decade. TV is the country's go-to medium for getting information about water, food, energy and extreme weather, considerably more so than the radio, newspaper, friends and family.
Around a third of the population have changed how they live in response to environmental changes; swapping jobs is the most common way of shaking things up.
In addition to all of the data, the portal also hosts a number of other resources:
For extra guidance on navigating the portal, take a look at our 'How-to' section, as well as our 'walkthrough' and 'running a query' videos.
Those interested in how we collected the data should refer to the methodologies and questionnaires available on the right-hand sidebar of each of the thematic pages (media, governance, resilience).
The portal is also home to reports which summarise and analyse data available on the portal. For example, we've produced a report exploring how to better connect with the least politically engaged Kenyans. This is just a flavour of what's to come, similar reports analysing our governance data in other countries will follow in the coming months.
On each thematic page, there are reports and tools to support practitioners to use media for development. For example, we've featured the communication toolkit from our Climate Asia project, which includes a guide on how to talk about climate change in an accessible and engaging way, as well as a set of cards (with instructions) for co-creating a communication strategy with partners and your target audience.
Sonia Whitehead is BBC Media Action's Head of Research Programmes, overseeing research across Africa, Asia and the Middle East.