Main content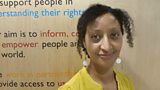 Emebet Wuhib-Mutungi
Health Adviser, BBC Media Action, Emebet Wuhib-Mutungi is a Health Adviser with BBC Media Action. She tweets as @ewuhib.
Blog posts in total 2
Posts
Emebet Wuhib-Mutungi looks at what's killing teenagers around the world and outlines how communication can help address the main causes of death.

Following the launch of our Global Health Stories site, Emebet Wuhib-Mutungi explains how influencing mothers-in-law and husbands can help improve the health of mothers and their babies.