Main content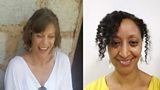 Genevieve Hutchinson and Emebet Wuhib-Mutungi
Senior Health Advisors, Advisory and Policy, Genevieve's key areas of work are reproductive, maternal, neonatal and child health, and HIV. Emebet's work involves providing training and advice to BBC Media Action country teams on health communication.
Blog post in total 1
Posts
As World Health Day approaches, and as we look towards the first-ever UN High-Level Meeting on Universal Health Coverage later this year, we're sharing insights from BBC Media Action's work to help health workers and communities work better together to build a healthier world.