Main content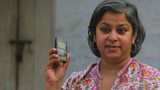 Priyanka Dutt
Country Director, BBC Media Action India, Priyanka Dutt is Country Director of BBC Media Action's India office.
Blog posts in total 2
Posts
India Country Priyanka Dutt discusses Majboor Kisko Bola! (Who are you calling helpless?), a project to prevent bonded labour, and what it taught her about her adaptive programming.

What do you do when your audience is difficult to reach, tough to keep engaged and doesn't understand concepts you take for granted? Priyanka Dutt offers some words of advice from her team's experience of running a health communication 'laboratory' in Bihar, northern India.