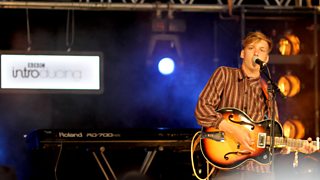 I was a fan of George Ezra before he was even known as "George Ezra". BBC Introducing first played this Bristol-based artist in February 2012. The song was Angry Hill and it was uploaded to bbc.co.uk/introducing a few weeks earlier. It's a track which now rounds off George's debut EP, out this month. What an incredible journey it has been for this young songwriter; a journey with BBC Introducing.
My co-presenter Richard Pitt and I followed up George's first radio play with another song in November that year. Prior to that George was little-known but It's Just My Skin really showed him at his best: craft, voice and wordsmanship. As soon as we'd heard that track we knew that we had to include George in the BBC Introducing Picks for 2013 free download. We also knew that we had to take him to Maida Vale.
George Ezra launched headlong into 2013 with an incredible session recorded at the legendary London studios. He recorded every song in just one take. You can still listen to the entire session and an interview with BBC Introducing in the West.
By that time, BBC Radio Bristol had already playlisted George Ezra. One of the most wonderful things about his music is the fact that he has such universal appeal. "A young man with the voice of a 50 year old," as Richard used to say.
In February 2013 George came to the very first #bbcintroducingontour show at the Bristol Institute of Modern Music, the college where he was studying at the time. He sat among his peers listening to the advice of local music industry experts. Oh, how he could probably teach us all a thing or two these days!
George is Bristol through and through and BBC Introducing in the West interviewed him several times during his Spring residency at the Gallimaufry music venue. As time went one the performances improved and the crowds grew.
It was around this time that some of the national BBC radio stations started taking notice of George Ezra. I remember having an email conversation with Mary Ann Hobbs who absolutely loved him. One of the best things about BBC Introducing is the connection between local radio and national stations. It's such a powerful direct relationship.
Then came the big moment: Glastonbury 2013. As I left the BBC Introducing Stage on the Sunday afternoon a random girl in the crowd grabbed me and said "Thanks for that, great choice". Richard and I felt honoured to introduce George Ezra onto the stage and he did not disappoint.
George Ezra performs Benjamin Twine on the BBC Introducing Stage at Glastonbury 2013
During the weekend BBC Introducing in the West broadcast live from the festival site on the Saturday night. We invited George to join us to play a few songs acoustically. "I wrote this about a month ago" he said before giving us the very first rendition of an unknown song called Budapest...
But Budapest is little known no longer, especially amongst those people who listen to Radio 1. The song was Zane Lowe's 'Single of the Week' in the build up to George's EP release this month. I heard it go out live across the country on the Monday: "His Twitter picture is of him sat in the bath", Zane laughed. Classic George I thought.
Nick Grimshaw is a fan of George Ezra too and several of the other Radio 1 presenters have played his music. It is incredible exposure and will help bring George's music to new audiences.
In fact the song Budapest was even included in the latest BBC Music ad.
He's now building a strong team around him and looking ahead to the future. The past 18 months tell a brilliant story, demonstrating the strength of BBC Introducing and the support it can offer new musicians.
BBC Introducing in the West goes out every Saturday night between 8pm and 10pm on BBC Radio Bristol, BBC Radio Gloucestershire, BBC Somerset and BBC Wiltshire.
Big up the Ezra.