We've been busy for the last few months putting together a formidable line-up for the BBC Introducing stage at Radio 1's Big Weekend in Norwich. The process started with our 36 local BBC Introducing shows nominating two acts they've discovered via the BBC Introducing Uploader. Then, a panel of producers and presenters assembled from across Radio 1 listened to each act and chose their favourites. Last year the Big Weekend audience in Glasgow witnessed sets on our stage from Catfish And The Bottlemen, Royal Blood and Saint Raymond. This time round we reckon we've put together another stellar list, brimming with artists destined for great things. Here's a flavour of why our local shows have supported the acts on this year's bill:
KLOË - "With slinky, ultra-modern production; slick pop melodies; honest, personal lyrics and vocal delivery; she is perfect for Radio 1's Big Weekend." Vic Galloway, BBC Scotland

HOT COPS - "They're just so effortlessly cool - seemingly indifferent to their own majesty - to the point it reminds me of watching The Strokes back in the day." Rigsy, Across The Line

TED ZED - "Ted Zed is one of the most exciting acts in the West Country at the moment. He came into the BBC with his band and performed a session last month. It was incredible." Sam Bonham, BBC Introducing in the West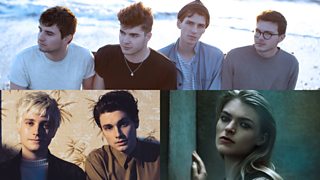 Headliners Port Isla and Laura Doggett, along with returning act the Ruen Brothers
We're also very proud to be hosting some of the finest new talent from Norwich and the Norfolk area on our stage. Here's Sophie Little and the team at BBC Introducing in Norfolk with why they've backed these local acts:
CLAWS - "The kings and queen of indie in Norwich with pop tunes that will swim around your head for weeks"

CONTEXT - "Consistently spoken for the young working class for years and we love the voice and lyrics he's crafted."

KILL IT KID - "The power, the blues and the voice get us every time."

FRANKO FRAIZE - "Like a family member to us and one of the biggest characters in Norfolk. We're always looking forward to seeing what direction he goes in next."

HARRY EDWARDS - "a fresh enigma plucked from the market town of Aylsham. We can't believe our luck that he's from our patch."
Here's the line-up for our stage:
Amber-Simone / Best Friends / Cash+David / Claws / Context / Fickle Friends / Formation / Franko Fraize / Get Inuit / Harry Edwards / HONNE / Hot Cops / HUNTAR / Kill It Kid / KLOË / Laura Doggett / Port Isla / Ruen Brothers / Star.One / Ted Zed / The Hearts / Will Robert / Youth Club
If you didn't manage to get tickets then you can stream the action live on the Big Weekend website and we'll have loads of pictures, videos and backstage coverage going out during the event itself on our social media accounts.