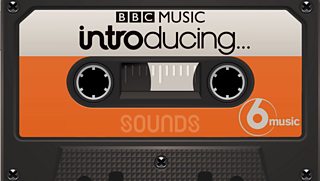 Tom Robinson showcases his favourite new tunes by emerging and independent artists on The BBC Introducing Mixtape. This curated playlist goes out on BBC Radio 6 Music in the small hours of every Monday morning between 2-3am, and is also available via the BBC Music pages and as a BBC podcast.
These are the listings for the episode broadcast on Monday 30 Jan at 2.00am, featuring THREE DIMENSIONAL TANX, KATE DIMBLEBY, BRUDINI, AZON, SACRED PAWS, TOM FIGGINS, SALVATION BILL, BEHLA HUTCHINSON, HAWK, TAMU MASSIF, CHERRY HEAD, CHERRY HEART, THE FLOOD IN OUR HEADS, GALLERY CIRCUS, DAN WHITEHOUSE, S.O.S. and GRADE A:
THREE DIMENSIONAL TANX - Pink Spaceship [starts 00:17]
http://threedimensionaltanx.co.uk
KATE DIMBLEBY - Musical Boxes [starts 03:32]
http://www.katedimbleby.com
BRUDINI - The Nightcrawler [starts 06:28]
http://www.brudini.com
AZON - Runner [starts 10:48]
https://soundcloud.com/soundsofazon
SACRED PAWS - Vince [starts 13:20]
http://www.sacredpaws.co.uk
TOM FIGGINS - Broken Arrows [starts 16:59]
http://www.tomfiggins.com
SALVATION BILL - Me And My Big Mouth [starts 20:53]
https://salvationbill.bandcamp.com
BEHLA HUTCHINSON - Knightmares [starts 25:13]
http://www.behlahutchinson.com
HAWK - Take It Away [starts 29:05]
http://www.hawkofficial.com
BLINDING - Breathe Out (starts at 33'47)
https://www.facebook.com/blindinghq
CHERRY HEAD, CHERRY HEART - Brambles Farm [starts 37:44]
https://cherryheadcherryheart.bandcamp.com
THE FLOOD IN OUR HEADS - Square The Parts [starts 42:20]
https://thefloodinourheads.bandcamp.com
GALLERY CIRCUS - The Flood [starts 47:28]
http://www.gallerycircus.co.uk
DAN WHITEHOUSE - Nothings Gonna Change It [starts 51:51]
http://www.dan-whitehouse.com
S.O.S - Bittersweet [starts 55:07]
https://sosofficial.co.uk
GRADE A - Time for Tea (Lee) [starts 58:48]
https://soundcloud.com/bandgradea
ARTISTS…
After being featured by BBC Introducing you may receive emails from PR companies with impressive client lists, saying they like your music and want to help you get further radio airplay. Please be aware this doesn't make you unique or special - lots of our artists receive these emails from companies seeking new clients for their paid services. And hiring a professional radio promotion team - just because they happen to send you an email - isn't neccessarily the best use of your money.
In our experience emerging artists often achieve the same results as a plugger - sometimes very much better - by simply contacting radio shows and DJs themselves via social media. For suggestions on how to do your own music promotion see the free advice section at my Fresh On The Net blog (freshonthenet.co.uk)
If you do decide to pay a PR firm to do this work for you, there are over a hundred to choose from in the UK. Nearly all of them have impressive client lists but not all of them deliver good value for money. Before paying anybody for promotional services of any kind, it's always best to contact a couple of their clients first to ask if they'd recommend that particular company. You can find the management, record company or booking agent for most artists using Google.
Further down the line - as your career gathers momentum - you may need to invest serious money in a professional PR campaign. While the most effective pluggers are among the most expensive, the most expensive ones aren't neccessarily the best. So check out which indie labels are regularly getting their artists played on national radio - then phone their offices to ask which PR company they recommend.
And whatever route you choose, don't forget to carry on uploading your new releases to BBC Introducing so that we can carry on supporting you as your future career unfolds.
Tom Robinson