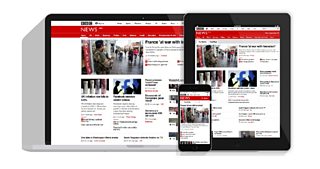 In the coming weeks, we're about to introduce some significant changes to the BBC News website and mobile apps. The existing products, whilst very successful, have remained largely unchanged for the past three or four years. In this post I want to give you some background to the changes we're about to make, and explain the ways in which we've been involving users in the design process.
A website for everybody, on all devices
In the past year we have seen an unprecedented shift in news consumption to mobile and tablet devices; in the UK 50-60% of all visits are now from users on mobile, and in some countries it's over 90%. Our original website was not designed with users on mobile or tablet in mind, and we need a cost effective solution that works for everyone, on all devices.
If you already use the BBC News website on a mobile browser then you'll be very familiar with the site we are about to deploy to all devices. This has been the default experience on mobile phones for over 18 months. Thanks to your feedback, we've been improving it with regular iterations, and it is now available in 30 languages worldwide.
In December we started inviting users of tablet devices to switch from the existing website to the new responsive solution and their feedback has been very positive. People are consuming a wider range of content on the new solution. We're now in the process of finalizing updates that will allow us to start inviting all users into the new experience.
As well as providing a great experience regardless of device, the new website has a cleaner design, will load pages quicker and surfaces up more video content than the existing design. The new navigation design allows users to find local news much easier than before with a "Find Local News" function.
The new solution will also allow us to deploy new features quicker and respond more effectively to your feedback in the future.
From the end of January we will invite users to the new site on an opt-in basis. Based on feedback from users we will then look to roll out the experience to all users.
A more personalised BBC News App with a broader range of content
The existing app is four years old and our customer surveys tell us that people now expect more from the app, especially the range of content it offers. That's why we've been developing a new proposition; our new mobile App for iOS and Android is now being tested with a user panel of 2,000 users, which has been receiving very positive feedback.
The new app will launch at the end of January and will include several new features, including:
- a broader range of content than the existing app, including local news
- surfacing up much more of BBC News video content in and alongside articles
- improved photo galleries and video playback
- most read and most viewed sections
- the ability to follow topics and stories with a personalisable "my News" section
The ability to follow topics will initially be limited to users of the mobile app. If this proves to be a popular feature then we will look to extend this to work across the app and website so that your "my News" section follows you across devices.
These changes will happen in the coming weeks and my team will be blogging here in more detail as the products launch, responding to your questions and feedback.
As always, I welcome your feedback and comments.
Robin Pembrooke is General Manager, News Products, BBC Future Media