The BBC Homepage is for many visitors their first entry point to BBC Online, showcasing the latest and best stories, programmes and articles from across the corporation. Senior Product Manager Mike Skelton describes the latest changes launching today, with customisation and new content categories for users to select.
In May, my colleague Andy Pipes wrote about the release of the new Homepage to desktop and tablet audiences as we continue to add features to the Beta.
Over a million people have opted in to the Beta and thousands of you have provided us with your feedback. The most commonly requested enhancements are the addition of local news and the ability to add or remove content collections (such as Latest Sport or People) from the page.
From today, you can now make the BBC Homepage more tailored to you by customising the page. Some of the features that are now available include:
Save your location centrally.
Turn on or off the Weather forecast for your location.
Add Local News to your Homepage.
Add one of many new collections that are available.
Remove collections that you don't want to see.
Receive personal iPlayer recommendations (provided you also use your BBC iD on the device or app you use to watch iPlayer).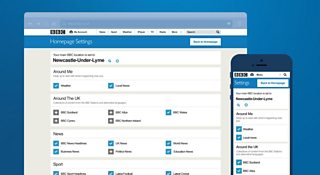 The Homepage customisation page
We will continue to add collections for you to choose from, with carefully selected content from across the BBC to appeal to all tastes, from science and technology articles, to guides from iWonder, to celebrity gossip and entertainment stories from Newsbeat.
To access these new features, you will need to either sign in to your BBC iD (if you already have one) or register for an account if you do not. It only takes a second or two.
Sign in prompt displayed on the Homepage
Using a BBC iD means that we are able to save your settings centrally, making it possible for us to apply your preferences whenever you sign in and visit the BBC Homepage, across all of your devices. In the past, it was not necessary to sign in to set location for Weather and Local news, but we would on occasion lose these settings, for instance when people cleared their cookies. Linking these settings to a BBC iD will alleviate these issues.
In addition to specific features for the Homepage, my colleague Phil Fearnley explained on his blog post about some of the additional benefits of creating and using a BBC iD. In short you can also:
Save your favourite iPlayer TV and Radio programmes across multiple devices and apps.
Add recipes to your Food binder.
Mark tracks to listen to later on Playlister.
We're intending to replace the current desktop website for all users in the next couple of months, but here's a sneak peek at some of the features that we'll be working on over the coming weeks:
Providing more national headlines for users who set their locations in Scotland, Wales or Northern Ireland.
Allowing collections to be removed within the Homepage itself, without the need for visiting the settings area.
Playing audio and video right on the page.
Adding the latest live updates to news stories or events that are being promoted.
As ever, your feedback is welcome, so please feel free to comment on this blog or complete the Beta survey, which can be found here.
Please note - changes on the settings page may not take effect immediately. If this occurs, please refresh your browser to force the changes.