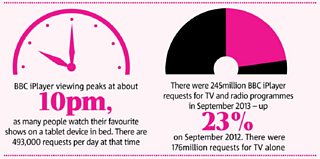 For more infographics see the Metro story on BBC iPlayer app downloads
The BBC recently announced plans to have a Controller of BBC iPlayer. From the press release, here's a quote from Danny Cohen:
"From now on I want us to think of BBC iPlayer as having the same status and value as a linear channel service. In essence, it becomes our fifth channel, creating and sharing content alongside our linear services."
A new deal with PACT which includes the extension of BBC iPlayer's free-to-air catch-up window from seven to 30 days was also announced.
If you'd like to give your thoughts about the BBC's plans for the future (which include enhancing BBC iPlayer) there's a "Where Next?" survey on the About the BBC website. 
The Register reports: "BBC to spaff £18 MILLION of licence fee cash... on BIG DATA". Quote:
"'The BBC is looking for a framework of suppliers to provide web and data analytics tools and services, and associated activities,' the tender stated.
The framework will be split into two lots: the first is a single supplier lot for a core analytics platform designed to provide "insight" into web reporting, advanced predictive analytics and regulatory reporting requirements.
This is worth between £6.3m to £9.9m for the supplier that wins the only seat on the framework.
The second lot is a multi-supplier framework which covers enhanced reporting and analytics tools, worth between £5.5m and £7.92m."
If you like "drones" you may be interested in the first conference on "Unmanned Aircraft Systems" in broadcast use which will be hosted by BBC R&D on 31st October.
And finally, Andrew Leimdorfer put together a Storify covering last week's #newsHACK.
Have a nice weekend.
Nick Reynolds is Editor, BBC Internet blog