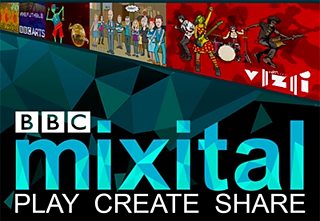 In 2015, we launched Mixital to help young people become digital makers. Brands from Doctor Who to EastEnders to Strictly got involved to inspire fans to make games, videos, animations, scripts and even dancing robots.
In all, more than one million new creations have been submitted to the BBC using Mixital's maker tools. And it has won or been nominated for six national awards – including a Children's Bafta.
Its key success was in simplifying digital making to enable everyone – including those with only basic digital skills - to get creative with the BBC. It meant audiences could engage in new ways with their favourite brands. And the brands themselves could showcase the creativity of their fans.
"Doctor Who is always looking for new ways to engage with its fans. We had nearly 100,000 original games submitted using the game maker kit that featured all the Doctor Who characters. And we've had thousands of scripts sent in too. It shows how creative our community is and how much they like to engage with us even when the show's not on air," said Matt Rogers, Digital Producer, Doctor Who.
The BBC is now building on these learnings and exploring how we might best incorporate creative participation into what we do online. That means we'll be closing down Mixital over the next year and helping our creative communities grow further on bbc.co.uk.
We'll also be sharing the insights and learnings from Mixital with partners like Nesta and Freeformers who collaborated with us in setting up Mixital.
Mixital was launched as part of the BBC's Make It Digital campaign. It built on the insights from Nesta's Next Gen. Report (2011) and Young Digital Makers Report (2015) that highlighted the growing skills gap in making with technology.
Digital technologies are rapidly changing how we learn, the skills we need and the future of work. It's becoming increasingly important for young people to get creative with these technologies.
"Our research shows how vital digital skills and creativity are to the future of employment. And also the huge appetite young people have to make digitally. Mixital built on the work we did with the Digital Makers Fund and, in turn, we look forward to building further on its insights and learnings," said Joysy John, Director of Education, Nesta.
The programme commissioned original research and worked directly with young people. The findings highlighted the need for easy-to-use maker kits and a safe, fun space to experiment, learn new skills, build confidence and showcase submissions - all essential ingredients of creativity.
BBC Executive Product Manager Jon Howard said: "Children were taking part in creative activities as entertainment. This wasn't just casual engagement; the quality of the creations demonstrated a high level of skill. Most surprising and exciting were the emergent behaviours, young people using the digital tools in ways that weren't originally conceived – devising games that we hadn't thought possible. We knew we'd uncovered a rich seam of creativity among young people."
One of the innovations underpinning Mixital was the Youth Panel: a group of 18-21 year olds who met the BBC production team regularly to help shape the product. They even built and launched their own maker kit with BBC Radio 1Xtra.
"It's been great working with Mixital. The Youth Panel – many of whom were Freeformers – really enjoyed working alongside BBC engineers and designers to create and launch their own product. I know how much they learned from these experiences," said Adam Freeman, CEO of Freeformers.
From April 2019, it will no longer be possible to register with Mixital or submit any new content using the tools. And from April 2020, Mixital itself will be removed from public view.
For more information please see Mixital FAQs.