In my blog post last summer I announced the launch of our first Digital Services Framework (DSF I).
To date, 22 projects have been awarded to 11 suppliers, with two currently in evaluation stages. The total advertised value of work is approaching £4.09m. Two suppliers are working with the BBC for the very first time, and the average time taken from publishing the Request for Quote to awarding the Work Order is five weeks.
Given the ongoing rapid development of the digital sector our plan was always to re-procure this framework in line with changing business requirements and after a minimum term of nine months. I am pleased to announce that we've now completed this activity and that the second iteration of the Digital Services Framework (DSF II) is now live.
This new framework will give BBC buyers continued access to a wide range of third party digital services and solutions, including:
• Digital Design;
• Application Development (including games);
• Mobile Application Development;
• TV Development (interactive and IPTV);
• Database Development (including content recommendations);
• General Development Practices;
• Digital Testing
Applications for Digital Services Framework II were taken during January and February 2015, with suppliers submitting details of their capabilities and previous experience as part of a single stage procedure, run in accordance with the European Union Regulations on public sector procurement.
The independent digital media sector plays an essential role in helping the BBC deliver better value for money for the licence fee, as well as supporting continual improvements in the quality of our online services. This new agreement enables us to continue efficiently matching BBC buyers to the right suppliers, with benefits on both sides. For suppliers it means that they'll only be pitching for work they're most suitable for (which we hope will help lower their overall cost of sales); for the BBC and the Licence Fee Payer it means that we can run a shorter but still competitive procurement process. The overall result is that frameworks help us to continually improve our online services while still delivering better value for money for the Licence Fee.
As the illustration shows, our Digital Design and Digital Testing frameworks, which were procured for a minimum term of two years, continue to operate alongside this new framework. All three frameworks are non-exclusive, with no minimum guarantee of work.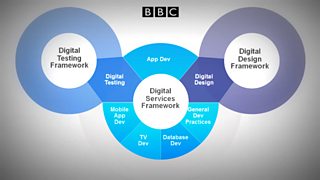 Readers will note that there is some degree of overlap between these three Frameworks. This is intentional as we anticipate that at certain times there may be specialist requirements and/or capacity issues which lead us to procure from the Digital Services Framework rather than the other two dedicated agreements. This gives BBC commissioners a great deal of strength and depth across industry to call upon as needed.
As with the first version, DSF II has been awarded on a minimum nine month term. The old cliché about nothing lasting forever still applies, and we currently expect to be advertising our updated requirements for DSF III around the end of this calendar year. Any interested suppliers should ensure they register their company details on our Procurement Portal and keep an eye out for notifications later this year.
We also recognise that there may be certain projects which fall outside the scope of any of these frameworks. Any high value (c£50k) contracts which fall into this category will be advertised openly, either via our BravoSolution Procurement Portal or our dedicated Commissioning web site.
We'd like to thank all the suppliers who took part in the selection process and congratulate all those awarded a place.
A full list of the successful suppliers for DSF II will be made available shortly.
Updated 20/07/2015: A full list of the successful suppliers for DSF II can be found on the Supplying the BBC website.