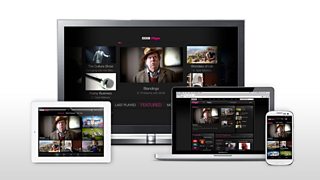 Last week we published the iPlayer performance pack for January which proved to be an exceptional month for TV programmes on iPlayer with 212 million requests across all devices and platforms, up +46% year on year.
However, it was TV requests from mobiles and tablet devices that rocketed in January, up +32% in just one month from December.
Popular programmes in January included Africa with 2.2 million requests for the first episode together with the return of Top Gear and Miranda with 1.8 million requests for some episodes.
And interestingly, for the first time ever we saw CBBC programmes regularly topping the daily most watched list with The Dumping Ground proving hugely appealing.
To date the BBC iPlayer app has been installed almost 15 million times on mobile and tablet devices.
With this many installs, it is no surprise that the growth in TV viewing in iPlayer has been driven by incredible tablet usage. Or should I say 'phablets'?
And usage didn't just peak over the festive period as can often be the case. Requests from devices with seven-inch screens such as the Nexus 7, Kindle Fire HD, Samsung Galaxy Tab and iPad Mini have continued to rise dramatically throughout January.
These stats reinforce the fact that mobile and tablets are hugely important platforms for iPlayer – ensuring you can watch and catch-up on your favourite BBC programmes whenever and wherever you are.
But while we can often use the same technologies to power a large number of devices, some older devices require specific implementations which have an on-going cost.
That said, we want to make our services available to as many people as possible so there's always a balancing act.
With this in mind we have decommissioned iPlayer on a number of older devices which last week represented 0.17% of our total iPlayer use on mobile.
The full list can be found on the BBC iPlayer FAQ pages but include older Blackberry, Nokia, Samsung, Sony Ericsson and other mobile phones.
Equally we are always looking at new devices we can bring iPlayer to and I have good news! Earlier this month we added support to the iPlayer mobile web site for the new Blackberry Z10.
I am also thrilled to announce that we have also been working with Microsoft and within the next few months we'll be enabling the same mobile site for devices running Windows Phone 7.5 and 8.
My colleague Cyrus talks about this in his post.
This is really exciting news and I'm looking forward to sharing more with you at launch. In the meantime it's always great here from you, so please share your thoughts and comments below.
Dave Price is the head of BBC iPlayer, Programmes and On Demand, BBC Future Media.