The BBC and Children in Need have today launched Pudsey's Gigantic Game, where the famous teddy bear takes a starring role as audiences are given the ability to create their own compelling levels for one gigantic game that everyone can play. Executive Product Manager, Digital Creativity Jon Howard explains more about how the game works and thinking behind the tech.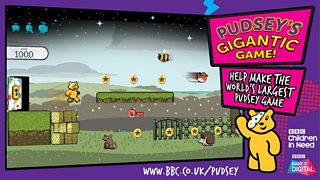 Children in Need's famous teddy bear stars in his own game
Empowering young people to be creative is a potent way to grow their confidence in digital skills. Expressing themselves and showing off their capabilities helps to foster an understanding of what digital can do. Here we are using games as the medium as they are a great catalyst for introducing concepts of conditional logic, visual design and product development.
Users quickly understand that a game needs obstacles and puzzles to interest its players – and developing these challenges requires deeper thought on how they will be approached and perceived. This engagement is fun and feels more like play than learning.
Pudsey's Gigantic Game uses a simple drag and drop interface which enables users to immediately create levels in styles ranging from platformers to flying games and in locations from underwater to outer space. Our hero Pudsey can be driving his car, donning his cape or even bouncing around the world on a pogo stick.
Preset templates allow users to jump straight into level building, engaging their digital creativity to produce game levels that will challenge and entertain. Each played level can be remixed too, this allows players to see how it has been constructed and use it as a template for their own creation.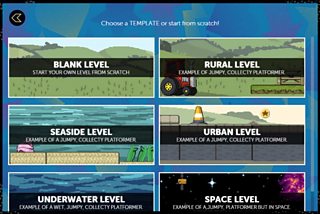 Preset templates allow users to jump straight into level building
Gigantic Game uses a component based system. Capabilities have been wrapped up in components to abstract the complexity, simplifying the cognitive ask of users while allowing useful preset configurations to be applied very easily. For example, items within a game level can have physical properties applied by simply telling them to be 'stuck' (not moving), 'floating' (able to fly) or 'bouncy' (no explanation required). This simplification still allows for an amazing variety of combinations and output.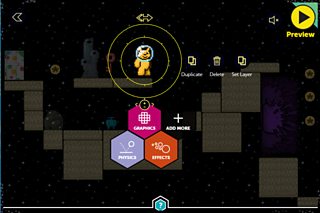 Each level of the game has a variety of combinations and output
Players begin each level and need to jump, fly, dive or drive to an exit to get to the next one, collecting coins and treasure along the way. Some levels take seconds to complete, others require much longer to puzzle out; it all depends on the game design skills of the user who created the level. Don't worry about levels that are impossible to complete as in order to to submit one each user must first complete it. Each submitted level will be pre-moderated before being added to the game and players are able to report a level if they find an issue. For players the objective is to complete as many levels as possible while racking up a really high score. How many levels can you complete?
A 'totaliser' keeps track of how many levels the game has. In the lead up to Children in Need's big night we want to make the game as Gigantic as possible. A series of stretch targets will form community challenges. Objective number 1 is 500 levels.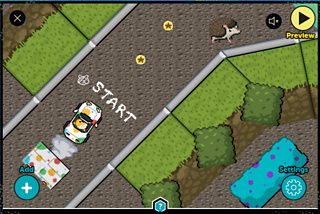 The game will hopefully get bigger and bigger in the run-up to Children in Need
Pudsey's Gigantic Game is the next release for the BBC's mixital technology following on from the massive successes of Make It: Technobabble Game Maker on CBBC and the recent Doctor Who Game Maker. Storytelling and music visualisation tools have also branched from the system, delivering creative experiences for young people on the mixital site. In total, over 300,000 users have made the transition from consumer into creator! It is great to be able to iterate our maker kits, adding features and improving usability with every step and allowing more and more audiences to get creative with BBC brands.
Launched as part of the BBC's Make It Digital season, the Gigantic Game was produced as a collaboration between BBC Children in Need, BBC Digital Creativity and Aardman Digital.
Pudsey's Gigantic Game is a really exciting enterprise. We are encouraging users to get creative with digital technology and introducing them to game design – a fantastic start to their journey in digital creativity. Users will be able to create at the speed of thought, to tell stories, create adventures and share them with their friends and the world. I can't wait to see what they come up with. Try for yourself. Play, create and share with Pudsey's Gigantic Game.