Hi I'm Jon Aird, a producer with BBC Comedy and I wanted to tell you about an exciting experiment we're trying out: Connected Studio is going to take the new series from Psychoville creators Steve Pemberton and Reece Shearmith called Inside No. 9 as the starting point for digital innovation.
While this particular Connected Studio will work slightly differently than in the past, we're still on the lookout for digital agencies, designers and developers who can help us.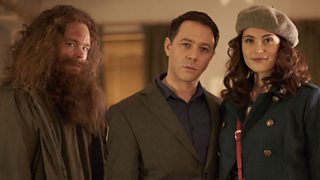 Steve Pemberton as Migg, Reece Shearsmith as Tom and Gemma Arterton as Gerri

At BBC in-house Comedy we're excited about working across all platforms. We have stand out shows on TV such as Twenty Twelve, on radio with The News Quiz and online there's the BAFTA award-winning Psychoville Experience. So it's a fantastic opportunity to join up with Connected Studio on this new project.
Each episode of Inside No. 9 is a darkly funny story with an unexpected twist.
Peeking behind closed doors you are invited into six very different No. 9s, from a grand old country house where a game of sardines leads to some chilling revelations in a wardrobe, to the flat of an apparently happy primary school teacher who becomes the victim of a good deed. The shows are funny, thrilling, thought provoking and immensely entertaining.
Steve and Reece are also keen to explore how the series can make the most of digital media so we're going to invite the audience into an extra No. 9 by creating a special digital storytelling experience.
Because it's destined for online audiences rather than TV we're going to tell it in a different way and that's where Connected Studio comes in.
We have a few ideas of what we're after. As well as watching and listening to find out what happens next the audience might have to interact, for example by becoming a character in the story or taking control of the action in some way.
It could even remain a passive experience but call on the strengths of the latest technology to alter the way the audience experience it. The story might change depending on what we know about who's watching or listening.
We've experimented with digital storytelling in the past, like this teaser for an interactive ghost story I produced called The Burning Room. Our aim for Inside No. 9 is to use digital technology to make a memorable experience that's inherently different to anything audiences have seen before, as well as delivering another tale worthy of inclusion in the series.
So if you're interested in new ways of telling stories and creating comedy using digital technology then head to the Connected Studio website for all you need to know about how to get involved.
Jon Aird is a producer in BBC Comedy.