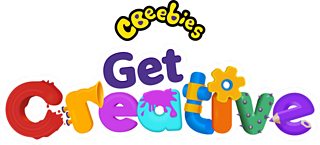 This week CBeebies has launched Get Creative; a brand new app aiming to inspire creativity in our youngest audience. Through a range of unique experiences and featuring our biggest brands, children can build their creative confidence in an exploratory, open-ended world with no limits.
This is the latest innovation to be delivered as part of the Kids 2020 strategy, which is the biggest investment in digital content and experiences for children in a generation. Get Creative offers a compelling range of creative experiences built around CBeebies brands that our users love. The app will sit alongside our established CBeebies apps, Playtime Island and Storytime, and offer both a safe space for kids and an app that parents can trust.
At CBeebies, we know how vital creativity is in children's social and emotional development. The Get Creative product has been developed to primarily to serve our 3-5 year old audience, fulfilling their key needs of self-expression and independence. Still, the product design process has worked carefully to make all experiences appealing for a broader age range of children and, importantly, for all abilities. Younger children are easily able to get creative in the simplest form and the open-ended design of experiences allows older children to build their creative skills in more involved play.
Get Creative is set in a crazy, messy and magical 3D factory, which instantly sparks imagination and encourages children to explore. The app has been designed around a simple brand led navigation, to allow quick and easy access to creative play with their favourite brand characters including Hey Duggee, Go Jetters and Bitz and Bob.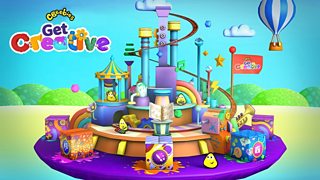 The Get Creative team have developed the app with children at the heart of the process, from co-creating initial concept ideas to shaping the finer details of the interface to make it as easy to use as possible.
The app launches with four unique creativity experiences covering magic painting, toy making, sound drawing and storytelling. This unique set of tools offers children the opportunity to make what they can't elsewhere. The experiences have been specifically designed as intuitive, unrestrained, re-playable and have the ability to be used independently without an adult's help.
Magic Paint – A delightful drawing tool where kids can use different paint, tapes, stickers and stencils and watch their creations come to life!
Terrific Toys – Children can create their own mix and match toys and play with them in a dedicated playground area.
Sound Doodles – An innovative experience offering kids the opportunity to make music from their doodles.
Play Puppets – Children can direct their very own episodes of their favourite CBeebies shows by animating puppets, props and watching their performances.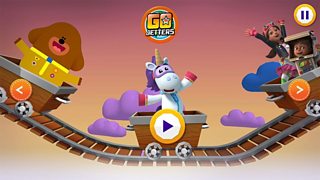 Get Creative features a gallery underneath the factory floor, which showcases all creations in one place, allowing children to continue play at a touch of a button. Along with a simple, app wide reward system, these product features allow children to celebrate their success and feel a real sense of achievement.
Regular creative challenges will be featured in the app, offering more inspiration and ways for children to Get Creative. These will also be promoted across our TV and web platforms to encourage their participation.
The launch version of Get Creative is just the start, and we have a packed product roadmap with regular additions coming in following months. With Christmas creative challenges, additional creative experiences and scaling of the number of our most well loved CBeebies characters, there will be many reasons for children to want to return regularly to the app to Get Creative!