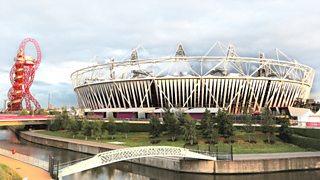 Olympic Stadium in Stratford, London
All this week you can watch up to 24 streams of Olympics content on Red Button (satellite and cable) and Connected TV.
Full details are available on the Olympics schedule website.
BBC Sport Multiscreen
During the Olympics you can also catch up on all the latest in other sports via the BBC Sport multiscreen. Headlines are available around the clock with up to five streams available to cover the best that BBC Sport has to offer.
Please note that Red Button sport timings are subject to change at short notice.
For the latest information refer to the BBC Sport website.
Merlin - Join Anytime Quiz
Merlin is back on CBBC! Test your knowledge on the series' magical creatures with our red button Merlin Quiz. Watch clips from the show and answer the questions asked by Merlin (played by Colin Morgan) on his magical medieval world. How many questions will you get right? Find out more about Merlin's world at bbc.co.uk/merlin.
Available on Sky only

Sat 4th August - Fri 10th August, 7:00am-7:00pm
Radio 2 In Concert - Blur
Watch highlights of Blur's exclusive performance from the BBC's historic Maida Vale Studios in London. The show features many of the band's greatest hits, as well as rare favourites and their latest tracks. Hosted by Steve Lamacq, the Red Button show is a culmination of a day of live music and archive on Radio 2 and 6 Music, celebrating one of Britain's greatest bands.
Available on Freesat/Sky/Virgin Media

Sat 4th August, 6:00am - Wed 8th August 4:00am
London Collection
The London Collection is an archive collection that celebrates the people and places of London. Highlights are available on the Red Button and the full archive collection is available online at BBC Four Collections. There will be various programmes on both BBC Two and BBC Four which are supported by this collection.
Available on Freesat/Sky/Virgin Media
Freesat/Sky:
Sat 4th August, - Fri 10th August, 7:30pm-4:00am

Virgin Media:
Wed 8th August - Fri 10th August, 7:30pm-4:00am
CBBC Extra
Press red on the CBBC channel this week and you can read Chris and Dodge's blog, get answers to some of your questions, read your horoscopes and see if the jokes that made Chris and Dodge LOL will have the same effect on you.
Go on, press red... You know you want to!
Available on all platforms
CBeebies Red Button
BBC Red Button welcomes younger viewers and grown-ups with a sense of adventure to the big, bright and fun world of CBeebies interactive!
Your children's favourite characters are at the heart of the interactive TV experience. Satellite and digital terrestrial viewers will have slightly different offerings from one another. This has enabled the Red Button team to offer the best games tailored to each system.
CBeebies Red Button is available on the CBeebies channel, and via page 5900 on other channels.
Available on Freeview and Sky only
Note all Red Button times are subject to change at short notice