With over 3 million downloads and counting, the BBC iPlayer Radio app (now available on iOS, Android and Amazon devices) is evolving.  Since we first launched the app, we've been listening closely to audience feedback with a view to make continuous improvements to the apps. I'm proud to say that we've now implemented the single most requested new feature – podcast downloads.

This means that you can grab a copy of your favourite podcasts to listen to on or offline, straight from the app.  We've added simple controls to choose whether to allow downloads when on mobile networks or just on WiFi (to avoid data charges), to 'queue' as many downloads as you like, and to manage your downloaded content quickly and easily via the new 'My Downloads' section of the app.  You'll find this new section in the 'More' menu on iOS devices, and in the main menu on Android and Amazon devices.  Android users will also be able to keep a clear overview of download activity along with a quick play option via the notifications bar.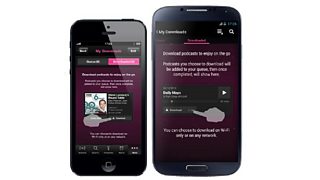 Podcasts in the BBC Radio app
You can choose from a plethora of podcasts so whether you like to listen to scintillating science programmes, new or archive Desert Island Discs, the best of this week's comedy, the latest news and reviews, sport highlights or hot new music suggestions from your favourite DJs – you will find something to engage your eardrums whether you have mobile signal or not.
For more information on where we are with full programme downloads please see this BBC Trust note. 
I'd love to hear your feedback, via app store comments, our twitter account (@BBCiPlayerRadio) or by email (radiofeedback@bbc.co.uk) or by comments on this post.
Happy listening!
James Simcock is Executive Producer Mobile, BBC Radio & Music Interactive