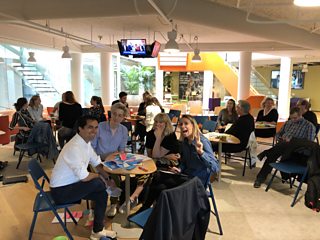 Last week, a few of us from the BBC Voice + AI team joined up with voice innovation teams from across Holland's media organisations, public and private.
Organised by Conversationals and hosted by KRO-NCRV, the day started with presentations from four broadcasters, each sharing our journey so far with voice.
In the afternoon we ran a creative session looking into the future of voice interaction beyond the current generation of smart speakers.
It was great to share experiences and identify shared challenges.
Here's 10 things we learned:
RTL Nieuws has been experimenting with voice news despite not having a history of radio or audio production. They've had great success with bringing known news anchors on to flash briefings on Alexa and Google Assistant.
VPRO are planning a new play together game for smart speakers based around detective theme. Not giving any more away but we're super excited to check in and see how this performs.
Apple Home Pod is apparently as popular as Amazon's Alexa enabled devices in the Netherlands; but Google is still king. That's almost the opposite to the UK market.
RTL Niews did some early experiments with WhatsApp as a channel for delivering audio news. It caught on; user's value it as a service and it's a great channel for immediate feedback.
Juke, the radio and podcast streaming service from Talpa has a great Alexa skill; they've got some cool easter egg's like "annoy the neighbours" which tunes you into hardstyle station!
The Dutch drink a milk drink known as karne milk at lunch times; it's surprisingly good mixed with orange juice.
There was a significant shared interest in trying to use voice to tackle fake news and filter bubbles across our group; two independent teams came up with ideas to address this in our future focused creative sprint.
Lots of thought around voice interactions for mobile, especially in car. Spotify's car thing has triggered much discussion.
Commercialisation remains pretty elusive in voice; thoughts centre around playing ads within audio streams but it doesn't feel innovative!
Discovery and engagement is also a major challenge; we think social chat integrated with task based dialogues and expressive neural voices may be key to changing that.