The CBeebies Playtime app launched on 15th August 2013 and so far has reached over 1.3 million downloads across the Apple, Google Play and Windows Phone 8 app stores.
Back in August we promised there'd be more games coming into the app, and I'm delighted to announce that we've just launched the first addition with the Make a Picture game. Little ones can join CBeebies presenter, Cat, to stimulate their imaginations and have fun developing their artistic skills, using paints, pencils, felt tips, stickers and more. Simply download or update the app and you and your little ones can get creative without spilling one drop of paint. The game is available now on iOS, Android and will be coming soon to Kindle Fire and Windows Phone 8 users.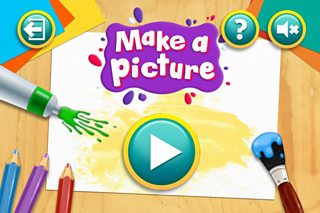 CBeebies Make A Picture Game
There's time for an early Christmas treat too, with another game coming in December. Nina and the Neurons – Earth Explorers is a strategy game that lets children explore our Planet and the Solar System. Little ones are free to travel across the Moon, Mars, the Mountains and even the Antarctic by building their very own Space-Rover using different components to suit the terrain. Children must then use their fuel cleverly to explore as far as they can to collect rocks and fossils, picking up interesting facts about each place along the way.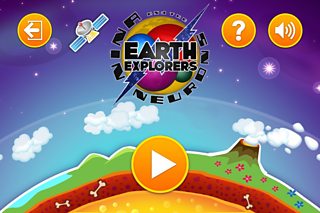 Nina and the Nurons Earth Explorers game
Game trends
We hope these new games will prove to be as popular as others in the CBeebies Playtime app, which has now been played over 13.5 million times at an average of over nine and a half minutes each time. That's around 128 million minutes of Playtime enjoyed by our CBeebies audience, giving us plenty of valuable feedback to help improve the app in future, alongside some interesting trends and insights.
• Tea time seems to be the most popular time of day for little ones to indulge in CBeebies Playtime with usage peaking between 6pm – 7pm.
• Users have joined the Octonauts as a Cadet on undersea adventures, rescuing sea creatures and learning interesting facts about them along the way over 5.9 million times.
• Helped Tree Fu Tom save the day over 6 million times in 'Chuckleberry Chase', by stopping those cheeky Mushas steeling all of the berries from the Harvest Festival.
• Have had fun making words with the Alphablocks over 6.1 million times in 'Word Magic'
• Topping the CBeebies Playtime chart though is Mr Tumble and his friends with over 7.4 million plays of the Something Special Paint Pop game.
One possible reason behind Something Special's status as the most popular game is that it's designed to be suitable for as many children as possible, including those with special needs, allowing them to have fun and build confidence. For example, it has 'Switch' control compatibility and specific in-game settings which allow Grown Ups to customise the difficulty and controls to suit a range of capabilities.
Parental usage
In addition to fun and exciting games for little ones, we've seen parents and carers making good use of features that offer extra information and safety.
The dedicated Grown-Ups section has been accessed nearly 1.1 million times since the app launched in August, providing parents and carers with tips on how they and their little ones can get the most out of the app, valuable bite size information about each game, the associated learning values, and useful links.
Safety is extremely important for CBeebies and any external links are protected by a passcode lock to ensure that little fingers don't wander too far. The CBeebies Playtime app aims to provide a protected environment where children can play and learn, and Grown Ups can feel safe in the knowledge that any information is kept safe and the app is a secure offline environment, free from in-app purchases. Our in-app Privacy Policy notice has helped to provide this assurance and has been accessed by our Grown Ups audience over 360,000 times.
We believe a unique feature of the CBeebies Playtime app is to allow Parents to surprise their child with a special message on their birthday or reward them for good behaviour, either by recording their own personal message or choosing from a selection of messages from a CBeebies Presenter. We know our audience must have been extremely well behaved over the last few months as the Special Message functionality has been set over 355,000 times with the 'Well Done' message being the most popular.
I'd love to hear what you think and are always interested in your suggestions and ideas, so please do get in touch in the comments.
Lizzie Leadbeater is a Senior Content Producer, BBC Childrens