Hello again. I'm Chris Sizemore, Executive Editor for the BBC's Knowledge & Learning product.
Today we're launching the BBC iWonder homepage. BBC iWonder is a new factual and educational brand from the BBC, and it's all about feeding the UK's curiosity.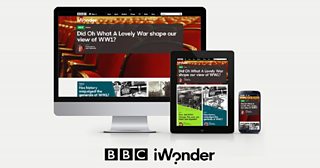 The BBC iWonder home page on three screens
BBC iWonder provides thought-provoking answers to the questions sparked in your everyday life - questions sparked by BBC programmes, what's in the news, important anniversaries, or what's trending on social media. The iWonder homepage will always feature plenty of examples of the Interactive Guide, our new flagship content format that makes learning feel effortless and entertaining. An Interactive Guide is more than just a webpage - it's a visually exciting experience that invites you to lean forward, "turn the page" and find out what happens next. The design is uncluttered, the learning is subtle, and within every exploration of iWonder content you'll find a moment to reflect: an opportunity for a deeper appreciation of a topic. I'm hoping that over time BBCiWonder will grow into a tool that helps people track, plan and discover the next steps in their learning.
You can check the BBC iWonder homepage regularly to see the latest Guides, top up your inspiration, and find something unexpected and thought-provoking to get curious about.
In time, the BBC iWonder homepage will introduce you to something surprising, provocative, exciting and challenging each day, hand-picking the most inspiring BBC content and blending it with the most wondrous stuff from around the Web and BBC Online. And, as you'd expect from the BBC and iWonder, the experience is fully responsive across different digital devices and screen sizes.
So far, BBC iWonder Interactive Guides have explored themes from World War One, such as "Pigeon vs telephone: which worked best in the trenches?", in support of the BBC's ongoing World War One Centenary season. Our next step is to begin publishing Guides about other topics, for example: "Could you learn to sing Calon Lân in 30 minutes?" and from additional genres such as Science: "How do we know the Big Bang actually happened?". So, keep an eye out over the next few weeks as we'll be adding new and exciting content to the homepage.
We're also launching a BBC iWonder presence on the social network Twitter today. Twitter is a natural place to exhange knowledge, and is already used by many users who we know will appreciate iWonder and can help us get the word out to those who'll probably enjoy it, but haven't heard about iWonder yet. In addition to our Interactive Guides, we'll often highlight something really wondrous from the Web - after all, the BBC doesn't, by any stretch of the imagination, have a monopoly on producing or publishing the kind of content that keeps your curiosity piqued! Over the course of the next months, of course, we'll expand onto other appropriate social networks where BBC iWonder can best serve licence fee payers.
My ambition is for BBC iWonder to combine world-class story-telling with cutting edge digital innovation. I hope you'll agree that iWonder feels fresh and looks amazing on tablets and smartphones. The new BBC iWonder homepage gives your curiosity a new jumping-off point - so if you are curious about iWonder, bookmark it and follow @BBCiWonder.
I'd love to hear what you think about our new homepage - please do leave comments below.
Chris Sizemore is Executive Editor, BBC iWonder