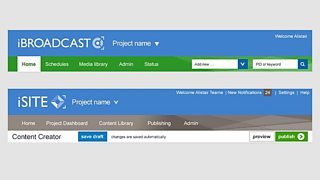 iSite and iBroadcast are the internal BBC systems used to publish the blog
The Internet blog migrated to a new content management system on Tuesday of last week. Hopefully you won't have noticed too many changes. The look and feel of the blog is pretty much the same.
The main change is in comments where the blog now uses the BBC wide version of comments. The technical team have identified a few bugs with RSS feeds and should be fixing them this week. The blog has also gone responsive, which means it should look different (and hopefully nicer) on mobiles and tablets.
The new CMS is called iSite Version 2, and if you're interested you can read a post about the user experience and design involved.
So as I grapple with a new CMS, it feels like a good time for one of our regular "open" posts.
As always, you can discuss any subject or ask any question as long as it's about the work of BBC Online.
1. Comments need to abide by the BBC's House Rules. Keep the conversation civil please.
2. If you want to make a specific complaint about the BBC use the Complaints website.
3. If you want to have a general discussion about the BBC, try the Points of View message board. Information about the BBC can also be found on the About the BBC blog, the BBC News Editors blog and BBC iPlayer FAQs.
I can't promise to respond to every single comment but I will do my best and encourage others to answer as well.
Thanks