With the latest version of the BBC Homepage now launched, Executive Editor Clare Hudson shares insights into how the wide variety of stories, features, programmes and more actually make it onto bbc.co.uk, and how the editorial team ensure that the very best of the BBC is available every day.
When we launched this new version of the BBC Homepage (Homepage v5) in 'beta' on mobile earlier his year, I wrote about why it was time for a change and how the editors that work on the page choose the content that appears on it.
During the beta phase we've had the opportunity to see and hear what users think of the new page and its content. We're re-focusing our editorial approach to make sure we're able to continue to help the many users who visit the BBC online to make sense of what's going on right now.
The big questions we start with are:
Is it what the audience wants? This sounds obvious but the Homepage must reflect the stories of the day that you come to the BBC for and expect us to feature.
Is it timely? Does it relate to the stories and talking points of the moment? Does it offer a fresh angle on developing stories? Does it reflect the BBC output that the nation's talking about?
Is it interesting? Again, obvious. But we're keen that what we feature provokes a reaction, sparks a debate or brings new clarity and understanding to a topic.
Does it justify its place? Why choose this piece of content and not another? Each thing we pick should be a "must-see/hear/read".
Is it varied? Does it represent the breadth of our output and the diversity of our audience and their interests?
And finally, is it the best of the BBC? How do we use our unique, independent journalism to tell the stories of our time?
The new Homepage gives a far more effective platform to showcase the best of the BBC. So, what kinds of things can you expect to see?
Some things won't change. Big moments bring people to the BBC so we make sure we focus on them. This includes live events, particularly big sporting events and national public events like the Royal Wedding, the commemoration of WW1 or the solar eclipse.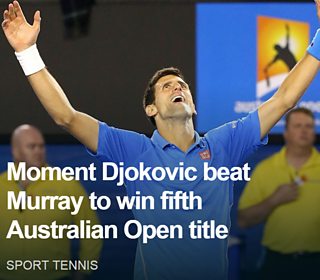 Big live events such as Sport bring people to the BBC
People also come to us for the latest information when disaster strikes or well-known people die. There will always be a selection of newsworthy events on the Homepage and we look not just to report but to explain the stories of the day by surfacing insights, behind-the-news explainers and updates that shed fresh light on existing stories.
Social media has become much more important to us all in the years since we last made big changes to the Homepage, so we're keen to better reflect the stories that generate conversation. Now, we can show what's buzzing on social media, what's capturing our attention online and what's got us all talking.
We also look for surprising insights – stories you can't quite believe or that make you say 'I never knew that!' These might be weird and wonderful stories or new additions to our common body of knowledge: space, technology, health, science.
Quite naturally, people care about things that might affect them so we also look for stories about changes to the world that impact us and how we live. Money and safety are key themes, as well as changes to everyday things we rely on – technology, transport etc.
And of course, people also want to watch, find out more about and listen to the programmes, presenters and contributors that they recognize and are interested in.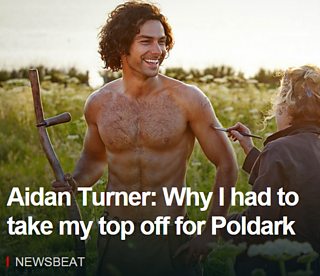 Watch, listen and find out more on your favourite shows
As I hope you can see from the examples, we draw from the full breadth of the BBC: TV and radio clips and programmes, live music, news and sports events, articles, iWonder guides, recipes, timelines, photo galleries, games, quizzes – the lot. The Homepage editorial team is committed to serving you the very best of the BBC, from the big hits to the hidden gems, every day.
But you can choose to play a bigger role too, and make your Homepage even more relevant. As my colleague Andy Pipes explains, signed in users can now customize the BBC Homepage to include content that's more relevant to them. We've recently launched around 40 curated collections that you can subscribe to if you've registered with the BBC. These collections draw from the full range of BBC content and are based on common interests such as film, football and personal finance, as well as BBC seasons, national events, and location-specific collections from our colleagues in the BBC nations.


Sign in allows you to customise the homepage, including location-specific collections
We're working with programme-makers from across BBC to identify and publish the best bits of output and with product teams to deliver more personalized collections. Signed in users can currently see TV programme recommendations from iPlayer. In future, we might recommend radio programmes, music clips or events to follow, based on your use. There's more on these exciting developments in Andy's blog post.
Coming up, we're looking at how to make the page feel more distinctive, developing new templates and formats that we can use for different types of content, times of the day and special events. We're testing and reporting as we go, and will continue to use the comments and the data we get to inform our editorial choices and technical developments.
As ever, your thoughts and comments are welcome.