Today we are launching the BBC Sochi Winter Olympics website, which automatically adapts its layout depending on whether you access the site from a PC, tablet or mobile.
This new responsive site will be the home of all BBC Sochi coverage, including 650 hours of live video in up to six simultaneous streams in the UK.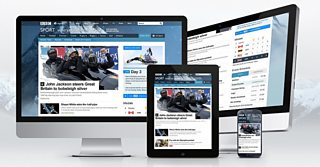 The indexes for the Winter Olympics site on four screens
The Winter Olympics is a massive part of a fantastic year of sport on the BBC which also includes the FIFA World Cup in Rio and the Commonwealth Games in Glasgow taking place in the summer on top of the Formula 1 World Championship and Wimbledon.
Much of the planning and development for these big events takes place in the previous year, so there were a few key decisions to make in 2013.
When deciding what to build for Sochi, we spent a lot of time analysing audience feedback and usage figures from London 2012.
This research showed that being able to follow the live action in video, audio or through the live text commentary were the most popular elements of our coverage, alongside the medal table and schedule so that's where we've also focussed our efforts for Sochi.
The new live page, which will showcase the Winter Olympics live video, radio, statistics and live text commentary, has been evolving since launching in beta last year thanks to your feedback, and will be at the heart of our Sochi coverage throughout the Games.
In the run up to the Games, the new Sochi site will cover the latest build-up news and outline what's happening when in the detailed schedule. Next week we will also add a dedicated index for each of the Olympic sports so that you can follow the latest news on your favourite sport, check the schedule and view the video highlights all in one place.
During the Games, as well as watching the live action, you'll also be able to follow your country's performance on the medal table and check out the results of every event.
This content is also available in the BBC Sport app for mobiles and tablets, available on iOS, Android and Kindle Fire devices. In the app you can also add the main Sochi 2014 page to your quicklinks and follow live coverage on the go with the Radio 5 Live and 5 Live sports extra radio streams.
If you're following the action on TV there'll be up to two red button streams on BT Vision, Freesat, Freeview, Sky, Virgin Media and YouView, offering live content and highlights from Sochi. While those with connected TVs will have access to all six video streams, highlights and headlines through the BBC Sport app for connected TVs and the BBC's Connected Red Button service on Virgin Media TiVo and both Sony 2013 and Samsung 2012 Smart TVs.
Another key decision we had to make last year was how to develop the Sochi site for the growing number of mobile and tablet devices visiting BBC Sport.
We recently saw record traffic from handheld devices to BBC Sport over the festive period  and on a typical weekday we receive more than half of all visits from mobile phones and tablets, rising to two thirds at the weekend, so designing a service which is optimised for those devices was really important.
There are currently two BBC Sport websites - a mobile website and a desktop website. Rather than making two versions of every event site we're building in 2014, we have adopted a responsive design approach and have built a single website which will adapt its layout for whatever device you are on.
William Bamford, from our engineering team, will explain more on how the site was built in a blog post in the near future.
We'll also be using feedback about the Winter Olympics to help us add to and improve the experience for the other key events in 2014 so please do let us know what you think.
We're especially interested in learning how you use your mobile and tablet devices as companions to television viewing and I'm keen to hear your thoughts on the subject so please do leave a comment.
Lucy McLean is Executive Product Manager, BBC Sport, BBC Future Media