Hi everyone, today is the BBC Online Briefing in New Broadcasting House, London. This is a chance for the BBC to share the work it's doing with partners and suppliers in the digital arena.
Host Kirsty Wark will have the opportunity to ask Future Media director Ralph Rivera some of your questions so if you have something you would like her to ask then leave a comment below, in Kirsty's blog post or tweet us using the hashtag #BBCOnline.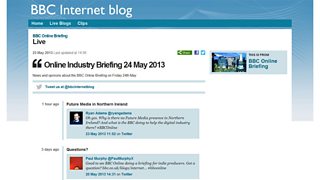 Live blog for the BBC Online Briefing

We'll be collating the news, discussions and opinions from the day using our Live blog so check it out, tweet your views and don't forget to follow us on @bbcinternetblog.
Eliza Kessler is the content producer for the BBC Internet blog.