As Tony Hall announced in October,  the BBC is revamping its digital live experiences to enable more live events to be delivered across four screens - PC, tablet, mobile and connected TV.
Today, an early Beta version of this new approach to live event coverage across the BBC's web and mobile offering has been launched.
The success of the first truly digital Olympics in 2012, and this year's Wimbledon and Glastonbury, has demonstrated both the audience appetite and potential for digital live event coverage. It's our intention to raise the bar even higher for a wider range of Britain's biggest social and cultural events.
Starting with 2014's major sports events - the Winter Olympics, World Cup, Wimbledon and Commonwealth Games - we have developed a new user experience that combines the best video, audio, text, social and stats, alongside the BBC's world-class digital journalism across screens.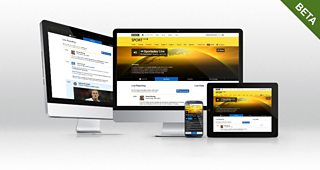 A new approach to live Sport
From here we will gradually begin to offer this improved live digital treatment to other events from across the BBC.
The Beta launched today is a small but important first step towards delivering on that vision.
It will run as an opt-in service alongside our existing BBC Sport offer in the coming weeks, starting today with Sportsday Live, focussed around live text commentary.
It will be gradually rolled out for a range of live sports events in the run up to Christmas, adding features like live and on demand media and statistics as we continue to test and iterate the product ahead of the Winter Olympics in February 2014.
The new approach provides the following benefits:
- Speed: It's much faster at updating content – in some cases halving the time it takes to get the content to the page, and automatically updates across screens
- Control: It makes it easy for users to find and enjoy the content they want around an event in one place
- Consistency: We offer the same great content in a consistent user experience across mobiles, tablet and desktop on a single URL using responsive web technologies
While for the BBC, one of the key benefits of the product is that it has been built in a generic 'white label' and modular way that means, in time, we can offer the same experience across different events and genres.
There will be much more to come as we strive to make our event coverage more personal, social and interactive in the run up to the Commonwealth Games.
In delivering this product, we have created a completely new technical architecture to process and publish content, plus a responsive front-end to display the content to users.
We will explain what we have built and how on this blog in the future, but for now please try the Beta today and look out for it in action in the coming weeks.
Audience feedback will, as ever, play a hugely important part in this process so please leave a comment below or fill in the questionnaire here. I would love to hear what you think.
Neil Hall is Executive Product Manager, BBC Sport