Hi
My name is Cathy Bartlett and I'm the Product Manager for Media Playout across the BBC. My flagship product is Standard Media Player.
What is Standard Media Player?
The Standard Media Player (SMP) is the BBC's new web(browser)-based video and audio player. Over the last 6 months we have been gradually rolling out SMP across the BBC website - iPlayer, News, Sport, iPlayer Radio, CBBC, CBeebies and Learning Guides. As many of these areas of the business have, or are in the process of, developing sites which respond according to the device they are displayed on (responsive design) this means you'll be watching and listening to BBC content through SMP not only on your desktop and laptop computers but mobiles and tablets too.
Why we built SMP
As audio and video has become more central to how we consume content, the BBC saw lots of new video players pop up across different areas. This resulted in different versions of players which didn't always give audiences the best experience, with a lack of consistency across playback, quality of video, accessibility and usability, amongst other things. Having to support multiple versions of the players also hampered our drive for innovation, making it difficult to release improvements and enhancements for all our users, regardless of what device or platform they were watching or listening on.
As a result, we've introduced one video player which standardises everything we were trying to achieve across the BBC - the Standard Media Player.
For our first rollout of SMP we prioritised:
making the user interface responsive so it's recognisably the same player whatever device you are using. This was the first step in allowing us to introduce new features that could be used across multiple devices, e.g. saving programmes to your Favourites
improving playback by revising the adaptive bitrate streaming behaviour to ensure we are consistently delivering the best quality video available to viewers
improving the streaming quality and performance to reduce buffering and ensure consistently great playback across a variety of networks
improving the business intelligence within the player by revising the implementation of analytics to provide greater insight into users' watching and listening behaviours informing us on what new features and enhancements would be of value
A significant departure from previous players is a new framework for SMP where features are presented as plugins enabling products to include different features dependent on context. For example, in BBC iPlayer, 'onward journeys' (where at the end of an episode if the next episode in the series is available it's cued up for you to watch) are almost exclusively about catching-up, onward journeys for a live event such as Radio 1 Big Weekend needs to deliver a different experience, offering viewers the opportunity to select a different live act to watch.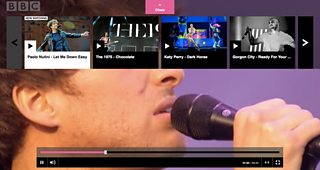 Radio 1 Big Weekend: select a different live act to watch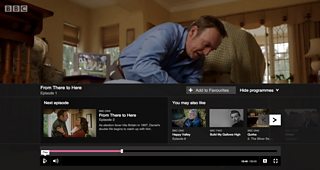 BBC iPlayer: Onward Journey
While we've worked to improve on the visual design, we've also taken the opportunity to improve the look and feel for our disabled users. The SMP has much better support for Assistive Technologies such as screen readers and voice input devices. We've also improved subtitles - different colours denoting separate speakers and, following in-depth user research, repositioning of subtitles where appropriate.
Live restart on mobile and tablet devices
Right now audiences have the ability to 'rewind' back up to 2 hours when watching one of the BBC channels on iPlayer on desktop or laptop computers. You will have also seen this functionality during the 2012 Olympics where you 'never missed a moment' with the ability to jump to the beginning of an event if you'd missed the start.
This summer, for those of you watching the World Cup and Commonwealth Games, we will be offering this same capability on Android devices and iPads. In addition, there will be an option to jump to the beginning of defined segments within an event (eg 'beginning of second half') or editorially chosen key highlights so that you can easily navigate to where you want to watch from.
We've made a commitment to keep parity between iOS and Android devices. This has been at the forefront of our development as we've been working on these new features, and where it's been technically feasible we have achieved this aim. There are still some gaps however which we are working on very hard to close. For now, iPhone users will not have these new features available to them, and for iPad users these features may not be available for all World Cup games. We are working to ensure minimal disruption and full alignment in time for the Commonwealth Games.
What's coming up:
Single player across platforms and devices: we'll be continuing to exploit modern ways of embedding and playing media in web pages, researching new streaming formats such as MPEG-DASH, as we move towards using a single player across platforms and devices.
Subtitles for live broadcast streams: researching into better delivery of subtitles and subtitles available for live streams.
Better video quality and enhanced playback performance: our switch to a cloud-based infrastructure gives us quicker delivery of media assets, and more content. With our packaging service in the cloud as well we'll soon be offering:
- new streaming profiles for higher quality video with higher frame rates (smoother motion)
- redesign of full streaming profile sets for improvements to ABR on mobile and tablet devices, desktops and laptops, and big screens (e.g. iPlayer on TV): SMP uses "adaptive streaming" to dynamically adjust the video quality based on the available bandwidth
- flexibility to deliver a variety of streaming transfer formats (eg DASH) to achieve our long-term strategies
We're analysing and improving the value, depth and frequency of our user research, user testing, A/B and multivariate testing - using data to understand our audiences. SMP gives us the technical agility and adaptability to collaborate with our internal partners to implement rapid prototypes and beta launches, flexing to our audience needs.
Standard Media Player represents a significant step forward in our video and audio proposition, providing us with the foundations for future development and innovation. My team and I always appreciate constructive feedback and look forward to reading your reviews and comments.
Cathy Bartlett is Senior Product Manager, Media Playout, BBC Future Media