We've got a jam-packed week full of drama, music, comedy and sport to suit all tastes on BBC Red Button. It includes the finale of Radio 2 Day headlined by Gary Barlow, chart-topping performers in the world-famous Live Lounge, the nail-biting final stages of the football season and Snooker World Championship and hilarious sketches from Watson & Oliver.

Friday Night is Music Night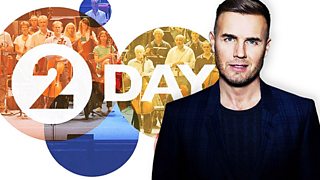 Gary Barlow is joining in with the orchestral fun

Watch the climax of Radio 2 Day with a spectacular edition of Friday Night Is Music Night, headlined by Gary Barlow. Among the other artists taking part are Sinead O'Connor, Jamie Cullum, Elaine Paige, Clare Teal and Mick Hucknall, all backed by the extraordinary 60-piece BBC Concert Orchestra conducted by Mike Dixon.
The orchestra will play the ultimate 'Friday Night Favourite' as voted for by Radio 2 listeners as well as classics from Shostakovich to Sondheim, Leonard Bernstein to the epic film music of John Williams.
A record number of Radio 2 stars will host this never to be repeated event, among them Ken Bruce, Jeremy Vine, Anneka Rice, Paul Gambaccini, Vanessa Feltz, Alex Lester, Richard Allinson, Janice Long and Bob Harris. Plus watch out for a surprise performance from Tony Blackburn, as you have never seen him before. The night will also feature the network's musical award winners including the Radio 2 Young Folk duo, the Radio 2 Young Choisters and the Young Brass award winner. Find out more here.
Available on Freesat/Sky/Virgin Media/Freeview
Friday 10 May, 7pm-9pm

Live Lounge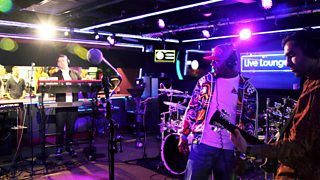 Rudimental perform on the Red Button this week

Sit back and relax as BBC Radio 1 brings you highlights of recent performances in the world-famous Live Lounge. This month's show features Rudimental, Ben Howard and The 1975.
Rudimental are a drum and bass quartet who rose to prominence last year with their hit single Feel the Love, which topped the charts. They have since released Not Giving In and Waiting All Night, which also made it to the number one slot.
Ben Howard is a 26-year-old English singer-songwriter who has achieved success with his Mercury Prize-nominated album Every Kingdom who won two BRIT awards earlier this year. The 1975 are a Manchester alternative rock band who recently made the charts with their single Chocolate.
Available on Freesat/Sky/Virgin Media/Freeview
Monday 6 May, 12noon-Midnight
Tuesday 7 May, Midnight-2.15pm, 4.30pm-4.55pm, 5.30pm-7.45pm, 10pm-Midnight
Wednesday 8 May, Midnight-5.20pm, 7.25pm-Midnight
Thursday 9 May, Midnight-4.55pm, 5.30pm-10.25pm
Friday 10 May, 4am-10.35am, 1.15pm- 2.45pm, 4.20pm-5pm, 9pm-10pm

Strange Hill High
Brand new Strange Hill High is CBBC's newest and strangest show and CBBC Extra is celebrating its arrival with Strange Hill Extra which is packed with exclusive content.
Chris and Dodge go behind the scenes to find out how the show was made, there are some unique character profiles, a sneak peek at what's coming up in the next episode and look out for an exclusive Strange Hill High song from Ben and Dodge.
Plus you can read Chris and Dodge's blog, check out the answers to some of your questions and read your horoscopes as written by Yonko.
Go on, press Red… you know you want to! 
Available on Freesat/Sky/Virgin Media/Freeview
Wednesday 8 May, 5.20pm–7.25pm

Watson & Oliver
Ingrid Oliver and Lorna Watson dressed as police officers

Have a chuckle on Red Button as Watson & Oliver take to the screens. The successful double act are winning praise for their many sketches featuring dancing girls, midwives, bear attacks, singing policewomen and more.
Available on Freesat/Sky/Virgin Media/Freeview
Thursday 9 May-Friday 10 May, 10.25pm-4am

Attenborough
Sir David Attenborough and his early years is the subject of a collection from BBC Four. Watch an interview with Sir David as he introduces highlights from the BBC Four collection on the Red Button.
Available on Freesat/Sky/Virgin Media/Freeview
Thursday 9 May, 4.55pm-5.30pm

Antiques Roadshow
Get up to speed with Antiques Roadshow at Chepstow Racecourse. This week family treasures are featured including medals from early Olympic Games, awarded when tug-of-war was a competing sport, a light bulb containing a painstakingly-made model of Lincoln Cathedral gifted by a German prisoner of war in World War 2 and perhaps the oddest and one of the oldest pieces of glass ever featured on the programme, which excites curiosity for its near-perfect condition over three hundred years after it was made.
You can now also play along on a mobile or tablet by downloading the play along app. Find out more and read the step-by-step instructions to play via Red Button. Don't forget to tweet your scores to #antiquesroadshow.
Available on Freesat/Sky/Virgin Media/Freeview
Sunday 5 May, 7.55pm-9pm

Sport highlights
Keep in the frame with the latter stages of the World Snooker Championship this weekend. We will have live action and highlights on Red Button from the Crucible in Sheffield so you can stay on cue with all the action. Final Score will feature all the ups and downs as the Premier League reaches its final stage while the Football League Show has all the action and reaction from the last day of the Championship season. 
If speed gets you revving, tune into the Red Button on Sunday for MotoGP action from Jerez in Spain with full coverage of the Moto2 and Moto3 races. The Badminton Horse Trials are also taking place with coverage on the Red Button this Sunday afternoon – enjoy live coverage from Gloucestershire. We'll also have some big-hitting rugby with Scrum V on Sunday.
There will also be Super League highlights on Tuesday before we get on the grid for F1 practice in Spain on Friday. We'll also be heading to Doha to watch the world's best athletes in the Diamond League on Friday.
For the latest information, refer to the BBC Sport website.
Please note all Red Button times are subject to change at short notice.