A priority for BBC Online has been to make the BBC feel more personal and relevant to individual users, by linking up content and launching new features to better serve our audience. The latest enhancement for signed-in users is a new Notifications feature, as Senior Product Manager Nicola Diggelmann explains.

Increasingly, we're developing a BBC experience that gives you more control, recognising you as an individual, and bringing you the best BBC content based on what we know you'll love. We are now offering you online notifications for the programmes, playlists and artists you enjoy.
So what are Notifications?
Notifications are both convenient and personalised to you, working as a quick and easy way to be alerted to content you enjoy.
You may already be used to going directly to BBC iPlayer to find out about new episodes of your favourite programmes or to BBC Music Playlister to find out about the latest tracks added to a presenter's playlist. The new Notifications feature brings these updates to you in one place. All you need to do is sign in with your BBC iD and look out for the bell icon in the navigation bar.
Clicking on the bell displays your personal Notifications hub - a list of all your notifications, with each providing a direct link to the relevant programme, clip or updated playlist.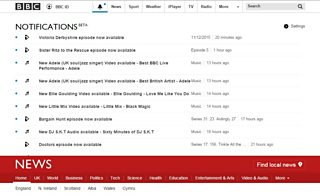 What kind of Notifications will I receive?
At first, notifications will appear when:
New episodes of a title you have added to your My Programmes tab on iPlayer become available.
New tracks are added to the presenter playlists you follow on Playlister.
New clips are published of an artist you have added to the My Artists tab in BBC Music.
How do I receive Notifications?
You should see the Notifications bell if you are signed-in with your BBC iD (if you don't have one, you can register here). To begin with, notifications are triggered when you add programmes from BBC iPlayer, artists that you are interested in from BBC Music and presenter playlists from BBC Music Playlister. If you have already started doing this, you will automatically see notifications as they happen.
What if I don't want to receive Notifications?

You can currently choose whether to receive notifications for iPlayer and Music content.
To change your preferences, click on the settings link in the Notifications hub and uncheck the relevant box. Doing so will not affect the content in your My Artists or MyProgrammes pages.
We will extend the scope of notifications over time to tell you about more of the things we know you like to watch, read and listen to, making sure you don't miss what you really want to know about. Do let us know what you think. I hope you find this new feature useful as it grows.