Doctor Who – The Bells of Saint John: A Prequel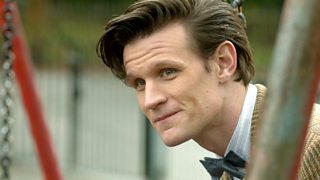 Matt Smith as Doctor Who

Look who's back! Can't wait for the new Doctor Who series? Press the Red Button and whet your appetite with an exclusive prequel showing the Doctor take a break on Earth after feeling despondent that he can't find Clara.
The new series of Doctor Who begins on BBC One on 30 March.
Available on Freesat/Sky/Virgin Media/Freeview
Saturday 23 March 5.15pm 8.30pm
Tuesday 26 March 7pm-6am
Wednesday 27 March 6am-7am, 7.30pm-6am
Thursday 28 March 6am-7am, 7.30pm-6am
Friday 29 March 6am-7am, 7.30pm-6am
Saturday 30 March 6am-7am
Antiques Roadshow play along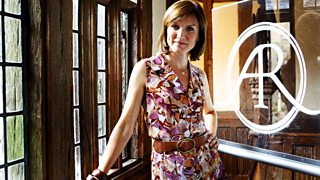 Fiona Bruce on the Antiques Roadshow
A second visit to Chatham's Historic Dockyard finds Fiona Bruce and the team busy as the people of Kent turn out in big numbers to share their family heirlooms. Treasures include jewels once gifted in appreciation by King Farouk of Egypt, a mandolin made by a German POW and a valuable wine bottle found in a skip.
Over one million people have already pressed red to guess the valuations of objects featured in real time – join in and find out if you're an antiques expert or novice when your score is ranked.
You can now also play along on a mobile or tablet by downloading the play along app. Find out more and read the step-by-step instructions. Don't forget to tweet your scores to #antiquesroadshow.
Available on Sky and Freeview:
Sunday 24 March, 7.55pm-9pm
CBBC Extra Behind the Scenes Special Video
CBBC Extra is lifting the lid on some of CBBC's biggest brands this week as Chris and Cel serve up an exclusive Behind the Scenes Special. There are not one but three access all areas films that reveal what goes into making some top CBBC shows!
Hacker sniffs out the story behind Officially Amazing, CBBC's brand new record-breaking show. Sam & Mark reveal the secrets behind the hidden cameras that go into filming Sam and Mark's Big Friday Wind Up and we join the Who Let the Dogs Out and About team on tour in Leeds.
As always you can read Chris and Dodge's blog, check out the answers to some of your questions and read your horoscopes as written by Yonko.
CBBC Extra also has some Eggstra Easter treats in store, so go on, press red… You know you want to! 
Available on Freesat/Sky/Virgin Media/Freeview:
Saturday 23 March, 7am-2.15pm
Sunday 24 March 12noon-2pm
Monday 25 March 5pm-7.30pm
Tuesday 26 March 7am-11am
Wednesday 27 March 7am-7.30pm
Thursday 28 March 7am-12noon, 1pm-7.30pm
Easter Extra
Friday 29 March 7am-7.30pm
Saturday 30 March 7am-2.30pm
Sport highlights
It's a busy weekend for BBC Sport and on Saturday you can keep up to date with the exciting qualifying sessions in the F1 Malaysian Grand Prix. For those with Olympics nostalgia we also have live rowing from the World Cup in Sydney from 11pm.
There's athletics action on Sunday, when we bring you coverage of the World Cross Country Championships in Poland. And of course there's the weekend's main event, the Malaysian Grand Prix main race - we give you plenty of opportunities to catch the highlights.
Not to be forgotten, football fans can get their weekly serving of the Football League Show across the weekend while The Super League Show offers viewers another chance to catch up with the weekend's Rugby League action as the teams prepare for the busy Easter period.
Available on Freesat/Sky/Virgin Media/Freeview.
For the latest information refer to the BBC Sport website
Please note - all Red Button times are subject to change at short notice.