Hi, my name is Marcus Parnwell and I am Executive Product Manager for BBC iPlayer on connected TVs, games consoles and TV operator platforms.
We are currently offering users a preview of the new version of BBC iPlayer for big-screen devices. If the preview is available for your TV device (see the list below and the BBC iPlayer help pages), you will see a new link at the bottom of the screen inviting you to try out a new version.
We launched the current TV version in 2011 and since then we have seen a dramatic change in how people use BBC iPlayer. Whilst we know users still want to catch-up on those programmes they know they've missed on TV, a lot of you want an easier way to find new things to watch. We are aiming to meet both needs with this version.
So what's new?
Channel and Category homepages
We know that you like to use BBC iPlayer to find programmes by both genre and channel. We have improved this experience to allow you see a curated stream of content – either highlighted by our editorial teams or because it has been popular. Our user testing indicates this is an easy way for users to discover programmes they may not otherwise have known about.
BBC ONE channel page
Collections
You will notice some double-height images - these are collections. These may include all the episodes from a series, or all the programmes that from an on-air season, such as our current BBC FOUR "Ballet Season" programming. When you chose a programme from a collection, we will highlight more from that collection in the play-out area so you can easily go from one episode to another.
A collection page
More like watching normal TV
With the current version of BBC iPlayer on TV, it's not always easy to find something else to watch. When you finish watching an episode then you have to leave the playback area to start looking for the next show. We want to make watching BBC iPlayer as easy as normal TV - a seamless experience without breaking playback.
So now you can browse all of BBC iPlayer without leaving playback. So if the credits are rolling or you are just not that into what's on, then pick up the remote and browse our suggestions of other programmes you may also like or else return to the Home, Channels or Categories areas. And don't worry if you change your mind - you can always return to what you were watching.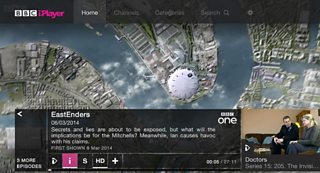 Playout
'Find tools' and Search
Know what you want to watch? Great. We provide a simple set of 'Find tools' that are designed to help you quickly locate the programme you're looking for. These are found at the front of the stream and allow you to find all the programmes within a given area. On the home screen, you will be able to access new episodes of programmes you've recently watched or programmes you have added to your Favourites. In the channel and category areas we provide schedule and A-Z lists. Search is accessible from any page and uses auto-suggest technology to get you to the programme you're after as quickly as possible.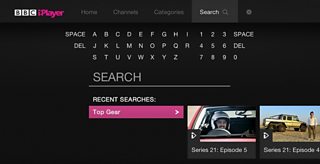 What devices?
We are bringing this preview to a range of TVs, games consoles and the Freesat with Freetime box. The list of devices to receive this preview includes:
Brand                         Type                      Year/Model
Sony                    TV                    2013
Sony                    Console            PS3, PS4
Samsung              TV                   2012 & 2013
Panasonic             TV                   2011, 2012 & 2013
LG                        TV                  2012 & 2013
Freesat                 Set top Box      Freetime
This is only the start – we are looking to bring this new version to current HTML based big screen devices.
For a full list of available models please go to the BBC iPlayer help pages.
Where is radio?
We decided not to include radio within this new version of BBC iPlayer. The low usage of radio on big-screen devices means it is not cost-effective to develop and support. You can continue to enjoy live radio on all Freeview and Freesat devices and live and on demand radio via BBC iPlayer Radio on computers, tablets and smart phones .
We are releasing this new version of BBC iPlayer for TV as a preview so that we can hear your opinions and improve the product. So please let me know what you think – either via the comments below or using the TV survey we have provided.
Marcus Parnwell is Executive Product Manager, BBC iPlayer on Connected TVs