I'm James Simcock, executive producer for mobile in BBC Radio and assisting as product owner in the build team for BBC iPlayer Radio on mobile devices.
Together with Chris Kimber, the executive product manager for BBC iPlayer Radio (across platforms) and the mobile development team in Salford, I'm excited to announce the launch of BBC iPlayer Radio for Android.
This app has all the features of the iOS app as well as some improvements that, as an Android user myself, I think make it even better.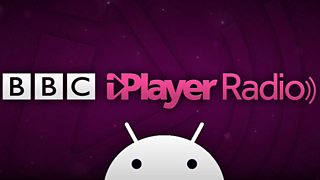 For the very first time this app is now also available on tablets including the very popular Amazon Kindle Fire HD. You can download the app from the Google Play store now and it will be available shortly in the Amazon app store.

What you'll find in the app
The BBC iPlayer Radio app transforms your access to BBC radio programmes. With the app you can wake up with your favourite breakfast show and instantly find the breadth of BBC Radio at your fingertips.
Specific features include the ability to:
Set the alarm and wake up with your favourite DJ or programme.
Spin through the touchscreen dial and listen live to the whole range of BBC Radio stations.
Swipe to reveal on-demand catch-up content and videos on every station page.
Set programme reminders to ensure you never miss favourite shows and add tracks to favourites.
Easily discover what tracks are playing and share with friends.

The app surfaces a wide range of content including the BBC's wealth of radio shows to watch and listen to live or via catch-up, wherever you are. There are also hundreds of podcasts, on-demand programmes from the past seven days and video clips from music sessions, events, gigs, festivals and your favourite DJs.
We hope you enjoy all the content the app includes and we will be introducing more content and features to BBC iPlayer Radio over the year ahead. This includes the ability to access full on-demand programmes from English local radio or the Nations stations.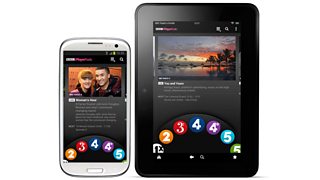 BBC Radio iPlayer app on mobile and tablet devices
Bringing iPlayer Radio to Android devices
Since Adobe Flash is no longer available on Android devices we decided to launch the new Android app with a new range of audio streams that use the 'HLS' protocol (HTTP Live Streaming). This protocol works really well on Android devices operating on version 4.0 or above (Ice Cream Sandwich, Jelly Bean and beyond).
Looking at the stats I can see that the majority of Android devices currently visiting iPlayer Radio via a browser are running more recent versions of the software and Google's own app store data backs this up.
On average around 80% of installs of current BBC products are on Ice Cream Sandwich (version 4.0) and above.
Using HLS has a number of benefits including the ability to efficiently access high quality live and on-demand audio whilst allowing you to continue to use other apps on your device at the same time, and allows us to develop exciting new features in the future.

Building the new Android app
Since we launched the new BBC iPlayer Radio in October last year we have been learning more about how audiences use the product.
With this in mind we've followed a slightly different design pattern for the Android version of the app which not only leans heavily into the navigational paradigms of the platform (making it familiar to most Android users) but also makes it quicker than ever to discover more content offered by most of our radio stations.
On iOS some content is tucked beneath the 'currently-playing content' area on the screen, revealed by swiping upwards to show a 'carousel'. However, on Android simply swiping horizontally will take you through all the content from the currently selected station.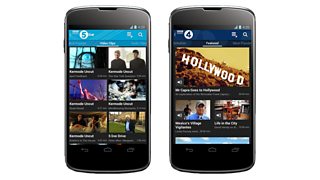 Video clips and featured content

This also means we have more space to play with when considering additional functionality and extra content in the future. We will look at how we can reflect this model in our iOS app in the near future as well.
Other differences between the Android and iOS versions of the app include the use of the notifications panel which appears at the top of the screen when you are elsewhere on your phone, making it easy to get back to the app.
There is also an alarm clock which works regardless of whether the app is active. Sharing programmes and tracks is also more 'open', using the extensive sharing functions of the Android platform to make programme URLs or artist and track names available to any application you have installed which can make use of such links.

Some existing challenges
While we wanted to launch the app to all Android users as soon as possible there is currently an issue with some Samsung firmware. This means that some owners of the popular and powerful Galaxy S3 device may not be able to stream our new HLS audio in the short term.
This applies specifically to some Galaxy S3 devices on EE, Vodafone and Three and we expect these networks to roll out a fix in the next month.
For clarity, Galaxy S3 users who did not purchase their devices directly via one of these three mobile network operators should experience no problems with the app and the folks at O2 have already rolled out Samsung's patch so users on the O2 network should be all set.

Your feedback
We will, as always, keep a close eye on your feedback so do please let us know how you find your experience using the app. As well as via reviews in Google Play and the Amazon app store, you can contact us via twitter @BBCiPlayerRadio, via email at radiofeedback@bbc.co.uk or leave a comment below.
When leaving a comment it really helps if you can be specific about which device you are using, which firmware you have installed (which can usually be found in the 'about' section of the settings menu on your device) and if connecting over mobile networks to include details of your network operator. We hope you enjoy using the app and look forward to hearing your feedback.
James Simcock is executive producer for mobile in BBC Radio.