As Doctor Who celebrates 50 years, go behind the lens on the year's most anticipated television drama. Plus this week you can catch up with the BBC Introducing festival, celebrating the top music acts of tomorrow. Sports fans can tune in to rugby action and watch highlights from the Brazil Grand Prix.
Doctor Who: Behind The Lens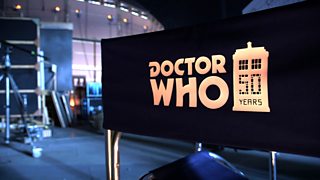 Doctor Who: Behind the Lens

Voiced by the Sixth Doctor, Colin Baker, catch up with old friends and meet some new ones. It's a rollercoaster ride and a time to celebrate. Features Matt Smith, David Tennant and Jenna Coleman with Billie Piper and John Hurt, as well as lead writer and executive producer Steven Moffat, discussing their 50th Anniversary experiences.

Sat 23 Nov, 9:05pm-10:05pm
Sun 24 Nov, 3pm-3:55pm
Sun 24 Nov, 8:30pm-9:25pm
Wed 27 Nov, 6pm-10pm
Thu 28 Nov, 6pm-7:55pm
Fri 29 Nov, 6pm-7pm
All details correct at the time of publication
The Five(ish) Doctors Reboot
A star studded special written and directed by Peter Davison. With the 50th anniversary of Doctor Who about to film, the 'Classic' Doctors are keen to be involved. But do they manage it?
Sat 23 Nov, 10:05pm-12:40am
Sun 24 Nov, 9:25pm-10:35pm
All details correct at the time of publication
Doctor Who: Mini Episode
This 50th Anniversary features three Doctors - Matt Smith, David Tennant and the mysterious incarnation played by John Hurt. But only one of them will appear in The Night Of The Doctor. But which one?
Sat 23 Nov, 6am-12:15pm, 1pm-2:30pm, 6pm-7:45pm
All details correct at the time of publication
BBC Introducing Festival highlights
This year has been a massive one for BBC Introducing, putting over 100 artists on our festival stages across the UK and beyond. In this programme, Huw Stephens brings a small selection of highlights from 2013 including George Ezra, Moko and Lauren Aquilina, all tipped for future stardom. With live music recorded at Glastonbury, Reading Festival and in Nashville, Tennessee, this is a must watch for music lovers and those looking for a new name to drop to impress your friends.

Mon 25 Nov, 1pm-7pm
Tue 26 Nov, 4pm-6am
Wed 27 Nov, 6am-2:40pm, 5pm-6pm, 10pm-6am
Thu 28 Nov, 6am-6pm
Fri 29 Nov, 12am-6pm
Sat 30 Nov, 4am-6am
BBC Four's Blues Season
Looking for something to wash away the week's cares? Catch up with highlights from BBC Four's Blues Collection on the Red Button - what could be better on a Friday night? The full collection is available at bbc.co.uk/bbcfour.
Fri 29 Nov, 9pm-4am
This week's sport highlights
There's a selection of action-packed sports on the Red Button this weekend with Rugby Union and coverage from the Brazil F1 Grand Prix. For a full list and times of sport coverage on Red Button see the BBC Sport website.
Please note times are subject to change. 
Keep up with all the latest news by following us on Twitter @BBCRedButton