I'm Ben Toone, assistant content producer at the BBC College of Production (CoP) website.
The site is a free online learning resource for the radio, television and online production communities offering videos, podcasts and articles from broadcasting innovators and experts.
It's a new term feel for the College of Production with a new look and lots of new content to talk about.
With more and more top flight football clubs, from Manchester United to Chelsea, having their own digital channels, we take a look at one the world's most famous club's TV channel and online presence. Plus we a look at social TV, Crimewatch online and how consumer technology is changing radio.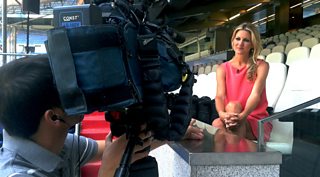 Rhiannon Jones of Realmadrid TV
Rhiannon Jones talks about her role as a producer, presenter and reporter for Realmadrid TV, the station which broadcast the unveiling to Real Madrid fans of record breaking signing Gareth Bale. It's interesting to see how the channel makes the most of the fervent support of Real Madrid fans from around the world, engaging them on social media platforms and with a bilingual YouTube channel.
What do Embarrassing Bodies Live, Downton Abbey and BBC Three's Free Speech all have in common? They are fantastic examples of how online and social media are key to engaging audiences beyond the reach of traditional TV, which was the theme of our BBC Academy masterclass, recorded at the recent Guardian Edinburgh International Television Festival.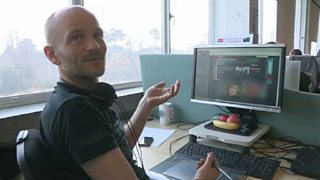 Steven Green of Crimewatch
Crimewatch has always been an interactive programme right from its inception, with viewers able to get in touch with the team of detectives working on the live shows. Now the programme's website and social media channels offer even more ways for viewers to get in touch or be informed of the latest police appeals. In this film, assistant content producer Steven Green explains how he manages the show's Twitter account and web pages around the live show, feeding information to detectives working on the cases as well as keeping appeals alive in public minds on the website long after live broadcast.
Our regular CoP Show podcast can be found on the BBC radio iPlayer app, which gets a brief mention in the second podcast from our tour of the BBC's Blue Room (the first, looking at TV consumer technology and programme making can be found here). This time we looked at radio, from innovations in in-car listening to apps which bring on the potential of a personalised radio experience. This opening up of choice for listeners is either a threat or a shot in the arm for radio producers. It's exciting stuff and as the BBC Blue Rooms Garry Green puts it "We need to use this technology to make things sound better". Have a listen and tell us what you think. 
Ben Toone is content producer for the BBC College of Production