Hi, I'm Marcus Parnwell, Executive Product Manager for BBC iPlayer on TV, including operator platforms such as Sky.
I am happy today to announce that we are updating and improving the interface on BBC iPlayer on Sky to bring it more inline with the new version of iPlayer being rolled out on computers, tablets, mobiles and connected TVs.
It's been over 18 months since we launched this version of BBC iPlayer and I am pleased that we have been able to work with Sky to make some significant improvements to BBC iPlayer on the Sky+ HD platform.
So what's new?
The first thing you're likely to notice is that you can see and select programmes on the home-screen. Previously you would have seen effectively a menu of the areas to browse, but now the first thing you see is highlights of the content we have curated for you.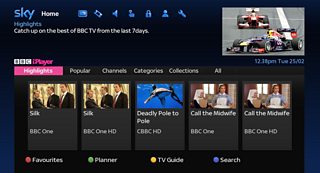 Updated iPlayer homescreen on Sky+ HD
Next is the navigation which, you may notice, is very similar to the new IPTV version of iPlayer I told you about a few weeks ago that we are currently previewing. The same Channel and Category headings are there, alongside dedicated areas for Most Popular and Collections.
Finally, we have added an 'All' area that will provide an A-Z listing of programmes available from BBC iPlayer. This should make finding a programme by initial letter and browsing the full iPlayer inventory on Sky both much easier and hopefully you'll find it useful.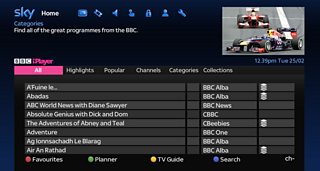 The new All view in iPlayer on Sky+ HD
Collections
The new interface enables us to increase the number of collections available by providing a dedicated area for you to browse them. So if you are looking for a theme or series to enjoy, please check this area out. We will be updating these regularly so do remember to come back. These have been very successful in the new versions of BBC iPlayer so it is a natural fit for us to enable them on Sky+ HD as well.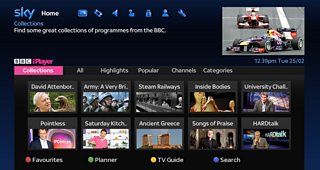 Collections, including whole series will be regularly updated
Exclusives and Premieres
I am pleased to announce that iPlayer exclusives and premieres are now available on BBC iPlayer on this platform. Look out for new and exciting content from BBC Radio 1's Big Weekend and Glastonbury in the coming months. We are bringing this inline with other versions of BBC iPlayer so you won't miss a thing.
Linking from BBC Red button
You may have noticed that we have added a link to BBC iPlayer from the Red Button menu, accessible from any BBC Channel. Simply press red and select 'BBC iPlayer' and we will take you direct to the home screen of BBC iPlayer. We know that many of you love the Red Button service and hope this will further improve the service by providing a nice easy way to get more programmes through BBC iPlayer.
What about double programme entries?
We are aware that displaying SD and HD copies of an episode next to each other isn't the best use of screen space, which is why we are working hard with Sky on an update to improve this. We hope to have this solved in the next few months.
I am very interested in hearing what you think – please let me know below in the comments.
Finally, I would like to thank the hard working team at Sky for their work on this update and support.
Marcus Parnwell is Executive Product Manager for BBC iPlayer on TV