This week we launched a major new version of the BBC iPlayer Radio app for iOS, Android and Kindle Fire devices. This means for the first time, you will be able to download BBC radio programmes in full to your smartphone or tablet, listen to them offline without the need for an internet connection and keep them to enjoy for up to 30 days.
This upgrade also includes an updated, refreshed and unified look and feel to the app, which is available across phones and tablets of all shapes and sizes.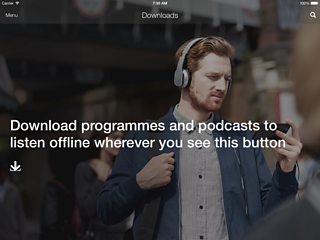 The ability to download BBC radio programmes in full to your smartphone or tablet
About downloads
The ability to download full BBC radio programmes to listen offline has been one of the most requested features from our users and comes as a result of a major piece of work to replace all of our radio streaming technology.
For a while users have been able to download podcasts in the app, but this update means you can now listen to full BBC radio programmes anywhere, even when out of range of a Wi-Fi or 3G/4G signal. And, for those of you about to head off abroad on your holidays, you can download them before you go here in the UK and then listen to them there too.
Most BBC radio programmes are available to listen again for 30 days after they're broadcast. You'll have until the end of the same 30-day period to listen to your downloads and after that time, the app will automatically remove them.
Some programmes are available for a shorter period or not available to download at all - this is because we have different rights agreements with different programmes.
About our new user experience
In parallel with developing our new download feature, we worked with our audiences team here at the BBC to form user testing groups to make our apps even better across tablets and mobiles.
Details around the new user experience and the design choices made will form the basis of a forthcoming blog article by our Creative Director.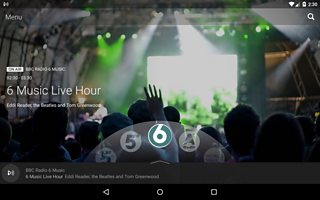 New user experience and design to make our apps better
How do I get the update to enable me to download programmes?
If you have the BBC iPlayer Radio app already installed on your phone, the upgrade should take place automatically.
Alternatively, if you do not have the app at all at the moment, you can download and install the app from Apple App Store, Google Play and the Amazon Appstore.
If you are using the dedicated BBC iPlayer Radio for iPad/Tablet app, this will soon be discontinued and you will be required to install the new unified app.
Don't worry, if you have favourited programmes. All of your favourited programmes are behind your BBC iD account; you simply have to log in on the new app for your favourites to appear.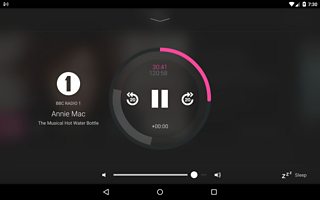 There are different ways to get the update
Why can't I update?
Firstly, the new version the BBC iPlayer Radio app supports iOS 7.1 and above. Unfortunately, it is not possible to upgrade or install the new app if your device is on a version less than iOS 7.1.
If your device is running iOS 6, you can continue to use the previous version of the app, and while you won't be able to download full BBC radio programmes, you will still have access to many of the great features available to that version including the ability to download podcasts.
Secondly, like the previous version of the app, the new version is available for devices based on Android Ice Cream Sandwich (4.0) and above.
However, the ability to download full programmes is only available to those devices running Android Jelly Bean (4.1) and above. This in turn also affects certain Kindle Fire tablets and as such, downloading programmes is only supported by Kindle Fire HD 3rd generation and above and Kindle Fire HDXs.
For devices based on Ice Cream Sandwich (4.0) including Kindle Fire HD 2nd generation tablets, you will still be able to download podcasts for offline listening.
These platform decisions are in line with the BBC iPlayer app and you can read more about this here.
What's next?
We are, at this very minute, working on an update to the app that will add an improved and refreshed look to the alarm (and widget for Android). This should be with you soon.
Given our experience with how the BBC iPlayer Radio app for iPad and Tablet has evolved over the last 6 months, our intention is to maintain a similar approach and to keep the new version of the BBC iPlayer Radio app fresh and constantly evolving, and with your invaluable comments we will be introducing new features and improvements with regular updates.
If there is a feature that you would like to see in the BBC iPlayer Radio app, please do get in touch with us.
We can't guarantee an individual response, but we will read all your comments and use them to make improvements when applicable.
In the meantime, we hope you enjoy the latest version of the BBC iPlayer Radio app and your feedback is essential to make the app even better.