Today is Ada Lovelace Day.
In the Broadcast Centre there is a meeting room named after Ada Lovelace in tribute to her pioneering work on computer programming.
Ada Lovelace banner
Today there was a special lunchtime presentation in that room where BBC staff heard about key engineering and technology projects lead by women at the BBC.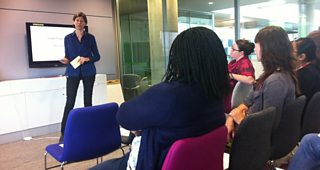 Marina Kalkanis talking about Video Factory in the Ada Lovelace room
The photo above features Marina Kalkanis (Head of Core Services, Programme and On Demand, BBC Future Media). You can read Marina's post about Video Factory on the blog.
More details of events related to Ada Lovelace Day can be found on the Finding Ada website.
Nick Reynolds is Editor, BBC Internet blog