In September I announced the launch of video downloads for our 11 most popular Android devices. Over the last seven months we have been gradually adding more models to the list of devices supported for this feature.
In response to public demand, instead of our previous policy of comprehensively testing specific devices before enabling downloads, we are now offering video downloads functionality by default to all Android devices running Ice Cream Sandwich (ICS) or above.
The opening up of this feature to more than 96% of current users of the BBC iPlayer Android app is the result of development by the BBC iPlayer team and extensive testing via the BBC Mobile Compatibility Programme (MCP). We believe that the vast majority of devices will enjoy a great video downloading experience. However, with more than five thousand different phone, phablet and tablet models able to install the BBC iPlayer Android app, there are likely to be a number of devices that exhibit bugs concerning download behaviour.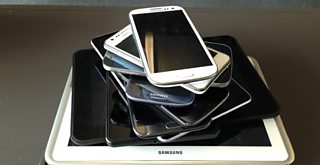 A pile of Android devices as tested by the BBC Mobile Compatibility Program (MCP)
Should the BBC be made aware of a major issue with the downloads feature that is affecting a particular device, we now have the option to disable this feature for that specific model/OS combination, while we assess whether it can be fixed.
If you are experiencing problems with downloading or playing back downloaded programmes, you can check here to see if downloads have been disabled for your device. If your device is not listed, please report what you are experiencing via the links on the page. We can't promise that we will fix every issue that is brought to our attention (there may be device limitations that prevent us from doing so) but we will seek to address problems according to the complexity of the issue, as well as the UK popularity and the user numbers of the device itself.
As always, I welcome your feedback,
David Berlin is Senior Product Manager BBC iPlayer Mobile Apps.