This summer, we're rolling out some new features to give you even greater control over your iPlayer experience. You might have already seen a blog post by my colleague Phil Fearnley talking about our plans to bring you more personalised experiences across the BBC.
We want to give you more control to make the things you love about the BBC even better and make it easier to find more of the things that might be of interest to you across the BBC. This is just the start of this journey for iPlayer - and we've got some exciting stuff planned. So, first up, Live Restart on TV.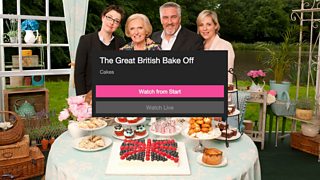 Live Restart lets you jump back to the start of the programme without having to wait for it to end
Ever turned on your TV or changed channels to discover you've missed the start of a programme you wanted to watch? With iPlayer's Live Restart feature you can jump back to the start of the programme without having to wait for it to end; just select the relevant TV channel in iPlayer and hit 'Watch from start'.
First launched for iPlayer on computers in time for the London 2012 Olympics, Live Restart has proved very popular. Since then, we've been working hard with manufacturers of connected TV devices on the technology to enable us to roll out the feature to iPlayer on TV and I'm delighted announce we will be doing exactly that from this week.
At launch the feature will be available on YouView, Roku, NOW TV, Amazon Fire TV, Xbox One and a range of connected TV sets and we'll be adding additional TV devices throughout the year (see list of devices which currently support Live Restart). We also plan to roll out the Live Restart feature to the BBC iPlayer mobile and tablet apps in the coming year.
Next up, My Programmes.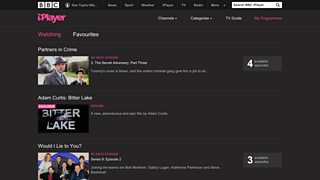 My Programmes area has your favourite shows and those you're currently watching
My Programmes is a brand new area on BBC iPlayer, providing easy access to episodes you're part way through, the next episodes of series you're watching and any programmes you've added to your Favourites.
My personal 'Watching' list (see above screengrab) is currently serving me up next episodes of Would I Lie to You? and Partners in Crime and giving me the opportunity to resume Adam Curtis' epic iPlayer-only film, Bitter Lake.
My Programmes is already available on the iPlayer website and will be added to the iPlayer mobile and tablet apps this week. We're also working to bring My Programmes to iPlayer on TV in the coming year.
Finally, cross-device resume.
Accompanying the roll-out of My Programmes, cross-device resume enables you to start watching a programme on one device and seamlessly resume watching on another.
Just make sure you're signed-in and iPlayer will automatically cue up any episodes you were part-way through on another device, enabling you to instantly pick up where you left off.
Initially available on computers, tablets and mobiles, cross-device resume is another feature we'll be rolling out to TV devices as we strive to make your iPlayer experience as consistent and connected as possible across all screens.
That's all for now but we've got a raft of exciting features in development for release later in the year, including more personalised recommendations, which will respond to what you watch and what you tell us you love.