Back in December, BBC Sport launched new beta versions of the BBC Sport homepage, Football homepage and the sport homepages for England, Northern Ireland, Scotland and Wales, and invited you to give feedback. These new versions are designed to offer a high quality of service across the wide variety of today's devices and screen sizes, including, for the first time on the BBC Sport website, pages that use a new wider layout. Senior Product Manager James Manning now updates on the feedback received and what happens next.
Your feedback
We have received thousands of responses to the survey since it launched in December. We have also been keeping track of users' comments on the previous blog.
The positives
Many of the survey responses and user comments on the new designs continue to be really positive, with many of you saying that the new designs are easy to use, clear, well laid out and easy to scan. Many of you like the wider layouts for the Sport homepage and Football page, and over half of you say that the new layouts are better than the current versions.
Carrying on from where the earlier beta pages left off, two thirds of you gave the updated beta pages 7, 8, 9 or 10 out of 10 in terms of overall quality.
The not so positive
We also received some less positive feedback about the new design. Tablet users found the layout of the headlines on the new Sport homepage and Football page confusing and also felt that this design offered them less when they arrived on the pages. Some users mentioned that images were slow to load. Some users also mentioned that areas like the "League by League" area on the Football page needed more work to make it easier to find content within them.
We also received feedback from some tablet users saying that they would prefer to have the option to view the more detailed, full-width version of these pages on tablet devices and pinch and zoom, swiping across as well as down to view the pages.
Changes we've made to the homepage betas
We've listened to your feedback and made some changes to the beta pages in recent weeks.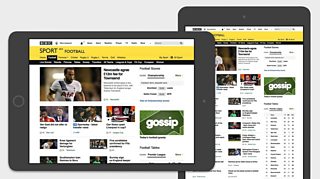 Updated headlines layout for tablets
We've updated the headlines layout on the Sport homepage and Football page for tablet users, bringing more headlines higher up the page on these devices and making the layout less complicated.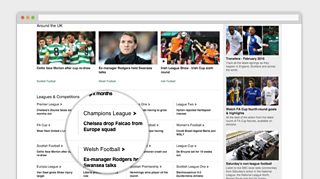 "League by League" area with each league above the headline
We've also updated the "League by League" area on the Football page to show each league above the headline rather than below it. This change is now available on all similar areas of the BBC Sport website, for example on the "Team by Team" areas on the Cricket and Rugby Union pages.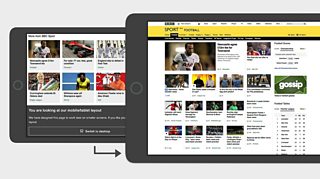 "Switch to desktop" option available on tablets