Hi, I'm Dan Taylor, Head of BBC iPlayer.
Nine weeks ago today we launched a new version of BBC iPlayer for computers, tablets, mobiles and connected TVs.
Today, we are taking the new iPlayer out of preview and making it the default iPlayer experience on computers. This blog post is to share some of the key feedback themes from the preview period and share how we've already begun making changes in response to this feedback.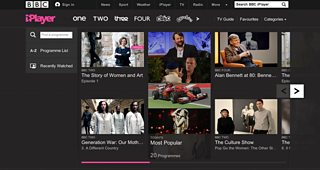 The new BBC iPlayer homepage as viewed on a computer
Firstly, a big thank you to all of you who took the time to comment of my previous blog post or complete the online survey. BBC iPlayer only exists for you and your feedback is critical in enabling us to continue to develop and improve the experience it delivers.
To ensure the feedback we received on the new iPlayer wasn't limited to those who proactively got in touch with us directly, we also commissioned an independent research agency to gather in-depth feedback from a large sample of people who were selected to represent the broad UK population.
So, what have users told us they think of the new iPlayer?
Well, the reaction has been overwhelmingly positive with the majority preferring the new iPlayer and only 5% of our nationally-representative sample disliking the new design.
The positive reaction to the new design has been across the age and gender spread. Here's a small selection of comments from men and women of different ages:
"I prefer the new layout; it's clearer and more intuitive. Much improved!" (Female, 45-54 years)
"I think what you've done with the interface is fantastic, it's clear, looks smart and is very responsive." (Male, 25 to 34 years)
"I like the new look BBC iPlayer. Much more user friendly and is a lot easier to navigate - this should definitely replace the old iPlayer asap." (Male, 45-54 years)
"It is much easier to find the shows that you're looking for" (Female, 16-24 years)
"I find the site much easier to navigate and also to find programmes I want to watch. I have not found a downside yet." (Female, 65 or over)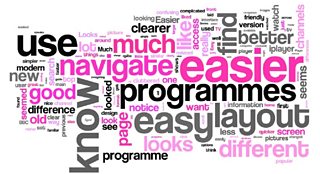 A word cloud of feedback on the new iPlayer from the independent user research
As outlined in my previous post, one of the key goals of the new iPlayer was to help users discover something new to watch. Happily, the feedback suggests the new iPlayer is succeeding in aiding programme discovery:
"Great layout. Everything is easy to find. The featured programme blocks on the front page have helped me discover some top programmes I would otherwise not have known about (e.g. The recent programme about the rise of coffee shops in Britain - that was excellent)"
"New layout is great, it's nice to see the featured programmes and other programmes by the channel they were broadcast on, rather than just the most popular. I'm now watching really interesting programmes I never would have thought to watch otherwise. The 'more like this' feature is also much better."
"Clean Clear Crisp. Very easy to navigate and to find what I was looking for but also found some new interesting programs I hadn't seen before or heard of on the home page."
That said, not all users are happy with all the changes, and we've received some helpful specific feedback, which we've been able to analyse and start addressing.
One such area is the ability to sort Categories by recency - a feature of the previous version of iPlayer on computers, which wasn't included in the new version. Feedback on this topic made it clear that some users found this feature invaluable in establishing what programmes had been added to a category since their last visit, so we quickly analysed how we might incorporate this functionality into the new design and put it live last Thursday.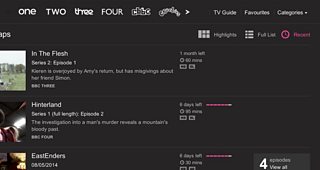 New Recent sort on Category view
The next area of feedback we're looking at in relation to Categories is filtering. The new categories have generally been very well received ("Really like the new iPlayer, well done and who ever thought to change/add the programme categories was genius", "Great update - I am so pleased you have split out the 'Factual' category"), but we are now looking at how best to support users to filter some of the larger, more diverse categories (e.g. just show crime dramas within the Drama & Soaps category). Update to follow on this one.
Another area of feedback has been Favourites. You've told us that it wasn't obvious how Favourites were sorted ("How is the favourite list sorted? I see now that its order 'Latest shown' at the top, but a 'Alphabetical list' would be useful"), or which episodes were new or expiring. We've already started responding to this feedback by introducing 'A-Z' and 'Recent' sort options so you can either see a full alphabetical list or sort so that the most recent episodes are at the top of the list. Programmes with less than a day left to watch are annotated with a 'Last Chance' label so you can see what's about to expire and we've got further improvements to Favourites planned in the coming months, including speed of loading.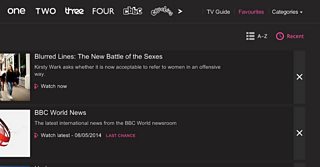 New A-Z and Recent sorts on Favourites
Both of these areas illustrate the extent to which everyone has their own way of using iPlayer. For some, A-Z is the only way to go, for others it's all about Channels, for others Categories, for other Favourites. We aim to support all of these routes to content in iPlayer whilst still providing a simple interface that's not overwhelming for less tech-savvy users.
I'd invite you to continue to feedback and be as specific as possible to help us further improve the new iPlayer experience. While we can't respond to every comment or implement every suggestion, we do read all feedback and will be regularly releasing updates. If you have feedback on our sister product, BBC iPlayer Radio, do read Daniel Bean's blog post and feedback via the iPlayer radio feedback page.
The new iPlayer for TV will come out of preview and become the default interface on supported devices in the coming weeks, rolling out to a wider range of TV devices over the coming months.
The BBC iPlayer apps for Android and iOS devices will also be updated with the new look and feel in the coming weeks. Look out for further updates on this blog and, for the tweeters amongst you, on the BBC iPlayer Twitter feed.
Dan Taylor is Head of BBC iPlayer, BBC Future Media