For users interested in an alternative to Flash to deliver audio and video, James East - Product Manager in Media Playout, introduces a beta trial of HTML5, as well as a new native Android player for BBC iPlayer.
Although we've been using HTML5 to deliver video to iOS devices for some time, until recently we felt that the consistent experience and efficient media delivery offered by Flash outweighed the benefit of moving to HTML5 on the desktop. However, we've been regularly evaluating the features offered by the most popular web browsers and we're now confident we can achieve the playback quality you'd expect from the BBC without using a third-party plugin.
To opt in, visit our HTML5 Player beta page. This will allow you to set a cookie in your browser so you can access our HTML5 player on BBC iPlayer. If you clear your cookies or switch browsers, you'll have to return to this page to re-enter the trial. You can also visit this page if you want to opt out and return to our non-beta player.
While opted in, whenever you visit BBC iPlayer to play a programme you'll see a reminder banner before you click Play, so you can be sure you're using our HTML5 player.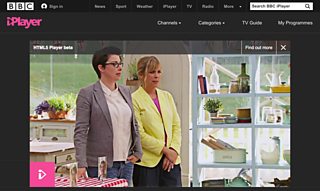 When opted in, you'll see a reminder banner before you click Play
We're currently testing the HTML5 player with:
Firefox 41
Opera 32
Safari on iOS 5 and above
BlackBerry OS 10.3.1 and above
Internet Explorer 11 and Microsoft Edge on Windows 10
Google Chrome on all platforms
We can also now start to move away from the BBC Media Player app on Android devices. If you use Android KitKat (4.4) or above, you can join the HTML5 player beta by visiting http://www.bbc.co.uk/html5 on your phone or tablet. This means you can again watch videos in-page while browsing the BBC website.
If you prefer to use the BBC iPlayer Android app, you can sign up for a beta to use a new player based on Google's Exoplayer. At the moment we've limited the Android beta group to 1,000 users so make sure you sign up fast! The BBC iPlayer beta app is available for any Android device on Jelly Bean (4.1) and above, and includes a beta tag in the top right when you have the controls shown.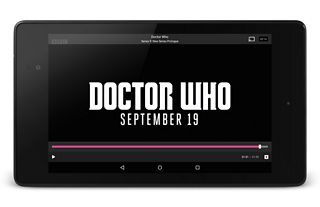 If you prefer to use the BBC iPlayer Android app, you can sign up for a beta to use a new player
To join the Android beta programme, visit the Android beta page on the BBC iPlayer help site. Once you've read the information on the FAQ page you can download the beta preview app from the Google Play Store. You can send feedback via the drop down menu in the app.
What's new
We've been working for the last few months to upgrade our existing HTML5 player to make it usable on the desktop as well as mobile and tablet. We've added a new volume control usable by touch, mouse or keyboard navigation and started taking advantage of Media Source Extensions via the dash.js project. We've also been concentrating on making this player even more accessible for users across desktop, tablet and mobile devices. For example, we've improved support for VoiceOver on iOS and Mac OS X as well as TalkBack on Android.
We'll be working over the coming months to improve the HTML5 player to match the abilities of our Flash player, and to refine the functionality and design based on your feedback. My colleagues from the AV User Experience team will provide more detail about the design choices made for the player over the next few weeks.
At the same time we've been working on delivering content using the new open MPEG-DASH streaming standard, and encoding video using the avc3 codec. These technologies give us the required level of control over AV playback.
Most programmes on BBC iPlayer should play in the HTML5 player from today, but there are some archive and late-delivered programmes which aren't yet encoded for the new MPEG-DASH streaming technology. Also, our MPEG-DASH implementation is not yet complete for live streams or radio programmes. During the beta period if we can't play a video in our HTML5 player you'll see the notification below, enabling you to load our non-beta player on a one-off basis.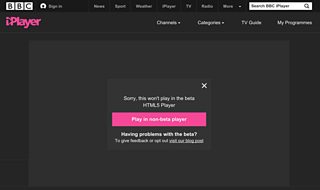 If you can't watch a video in our HTML5 player, you'll see a notification enabling you to load the non-beta player
Clicking this won't opt you out of the trial permanently. If you want to return to using our non-beta player by default, you can either opt out by visiting http://www.bbc.co.uk/html5 or clear your browser cookies.
What's next?
This is the first step towards making the HTML5 player our default, but we recognise that many users will rely on our Flash player for some time to come. We plan to continue supporting Flash on the desktop for at least the next few years. This is partly because playing video using HTML5 requires a more powerful computer than Flash, and we don't want to leave behind those users who cannot, or do not wish to, upgrade. However, it's also because we need to ensure all content is available using MPEG-DASH. As we roll out our Video Factory and Audio Factory projects to other parts of the BBC we'll be able to increase the amount of content available via MPEG-DASH and HTML5.
While we'll try to ensure our HTML5 and Android beta players function correctly we cannot yet guarantee they will match our Flash player in terms of speed, reliability or functionality. We'll be regularly releasing updates to fix bugs and improve performance, as well as to implement advanced features such as Chromecast in the HTML5 player.
I'm obviously keen for people to try our new players, but please remember that they're still under development. We'll be collecting data about the performance of the new players on an aggregated basis, and we'll use this - along with your feedback - to prioritise the work we still need to do. Please let me know your thoughts either by leaving a comment below, or by emailing the team at mediaplayer@bbc.co.uk