A couple of months ago, Cyrus Saihan announced that BBC iPlayer would be coming to Windows Phones . I'm now pleased to announce that that day has arrived and for the first time BBC iPlayer is available on Windows Phone 8 devices.
The application - consisting of a shortcut to the mobile optimized website, live tile and media player - can be downloaded for free from the Window Phone Store.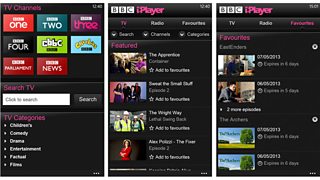 Search for content by channel, by featured content or save shows to your favourites

The application will enable you to catch up on your favourite BBC shows on the go. We know this is something that is becoming more and more popular as in March this year 30% of overall requests came from mobiles or tablets, with 81 million requests in total.
Following our previous blog post some of you will be wondering what about Windows Phone 7.5? Over the last few months we have been working with Microsoft to launch iPlayer on both Windows Phone 8 and 7.5.
Unfortunately, platform limitations with Windows Phone 7.5 have meant we've been unable to provide the same quality playback experience as on Windows Phone 8. This led to the joint decision not to make BBC iPlayer available on Windows Phone 7.5.
Although this is disappointing, Windows Phone 8 currently make up the majority of all Windows Phones on the market and this number is expected to grow. I therefore hope more of you will get to enjoy BBC programmes on the go with iPlayer with Windows Phone 8 devices.
Dave Price is Head of BBC iPlayer, Programmes and On Demand, BBC Future Media.