What a merry selection we've got on Red Button for you this week and into the New Year. The long-awaited return of Sherlock is finally happening and we've got a very exciting Christmas episode for all you fans. As well as that, there's a seasonal special from Strictly, festive fun from CBeebies and CBBC, live sport and some excellent New Year treats. With so much on, we hope you'll stay wrapped up and entertained with the Red Button over the holidays. 
Sherlock Prequel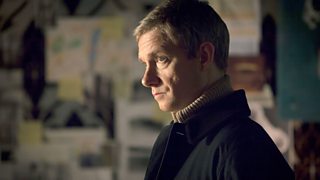 Marin Freeman as Doctor Watson in Sherlock
Tune into this Christmas mini-episode. There's a series of seemingly unconnected crimes stretching from Tibet to India to Germany. Sherlock Holmes has been gone for two years. But someone isn't quite convinced that he's dead...
Wed 25th December, 8:25pm-5:30am
Thu 26th December, 8:00pm-5:30am
Fri 27th December, 8:00pm-5:30am
Sat 28th December, 8:00pm-5:30am
Sun 29th December, 8:00pm-1:05am
Mon 30th December, 8:00pm-5:30am
Tue 31st December, 8:00pm-5:30am
Wed 1st January, 10:20pm-5:30am
Thu 2nd January, 8:00pm-5:30am
Strictly Come Dancing Christmas Special & Highlights
Live from the Strictly Grand Final, join Zoe Ball after the glitter comes down for the first interview with all three runners up before congratulating this year's champions – and catch highlights of this year's competition too.
Christmas Special
Sat 21st December, 9:45pm-1:05am
Highlights
Mon 23rd December, 7:00pm-6:00am
Tue 24th December, 7:00pm-6:00am
Wed 25th December, 6:10pm-8:25pm
Antiques Roadshow Play Along
Demonstrate your knowledge of antiques by playing along with Antiques Roadshow. Our valuation game is simple, fun and free to play. Consider each of the objects featured in the programme, select an option before our experts give their valuation and see how many you get right.
The play along is not available on Virgin TiVo but remember you can also download the BBC's free mobile play along app.
 Sun 22nd December, 7:55pm-9:00pm
CBeebies Christmas Karaoke
It may be cold outside but the CBeebies Christmas Karaoke is the perfect way to stay warm and cosy over the festive season. Sing along to a mixture of well-known Christmas songs and some brand new CBeebies numbers. Simply follow the words along the bottom of the screen and look out for some special Christmas messages from your favourite CBeebies stars along the way.

Sat 21st December, 6:00am-2:30pm
Sun 22nd December, 1:25pm-5:45pm
Mon 23rd December, 6:00am-7:00pm
Tue 24th December, 6:00am-7:00pm
Wed 25th December, 6:00am-4:10pm
Thu 26th December, 6:00am-2:30pm
Fri 27th December, 6:00am-7:00pm
Sat 28th December, 6:00am-2:30pm, 6:30pm-7:00pm
Sun 29th December, 6:00am-1:00pm
Mon 30th December, 12:00pm-7:00pm
CBBC 2013 - The Best Bits

Take a look back at all of 2013's highlights and funny moments with the CBBC gang. 
Tue 31st December, 7:00am-8:00pm
New Year's Day Concert
Daniel Barenboim conducts the Vienna Philharmonic Orchestra in their traditional New Year's Day concert live from the Musikverein. Alongside waltzes, polkas and marches from the Strauss family, there will be music by Richard Strauss and specially filmed performances from the Vienna State Ballet, choreographed by Ashley Page and with costumes designed by Vivienne Westwood.

Wed 1st January, 10:15am-12:40pm
Sound of 2014
Annie Mac presents the 15 most exciting new music acts on the BBC Sound of 2014 list: Sam Smith, Chance The Rapper, MNEK, Jungle, Royal Blood, BANKS, Sampha, FKA twigs, Ella Eyre, Kelela, George Ezra, Luke Sital-Singh, Nick Mulvey, Chlöe Howl and Say Lou Lou.
Fri 3rd January, 5:00pm-6:00am
Dumping Ground Extra
The Dumping Ground Extra is jam-packed with a whole host of exclusive goodies from CBBC's hit drama The Dumping Ground. Press Red to join Katie and Dodge for some behind the scenes exclusives. Find out what life is like on set with the cast, get the lowdown on some new characters and check out a sneak peek from the first episode of the new series.
Wed 1st January, 7:00am-10:15am
Wed 1st January, 12:40pm-2:30pm
Thu 2nd January, 7:00am-3:00pm
Thu 2nd January, 4:00pm-8:00pm
Fri 3rd January, 7:00am-5:00pm
Sport highlights this week
The Red Button is brimming with live sport and highlights over the festive period. Catch all the latest goals with Final Score and the Football League Show and follow Scrum V coverage as the Blues take on the Dragons.
There's also equestrian coverage from the Olympia Grand Prix in London and all the latest action from the slopes, with Ski Sunday Extra and coverage of Women's Giant Slalom and Parallel Ski. Plus, don't miss a look back at all the twists and turns of the past year's Formula 1 action in F1: A Record Breaking Year.
For a full list and times of sport coverage on the Red Button see the BBC Sport website.