I'm Sarah Clay, online exec for BBC Drama and Entertainment. I look after programmes such as The Voice UK, The Apprentice, Britain Unzipped and Being Human, brands that work really well online as a way of expanding the viewers' experience beyond TV.
The Voice is a Saturday night entertainment show on BBC One. Coaches Jessie J, will.i.am, Sir Tom Jones and Danny O'Donoughue search for the UK's best singing talent based purely on the quality of their voice.
The show is exciting as digital is at the heart of the format. Social media gives fans a direct line to the talent and to the show. Where else would you get will.i.am tweeting on stage mid song?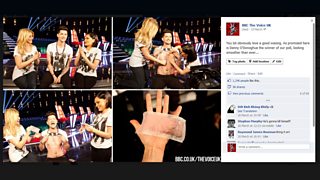 Exclusive access on Facebook – Danny having his chest waxed by Jessie for Comic Relief

The first series of The Voice was huge from a digital perspective and the website was one of our top performing BBC programme sites during the period it was on air.
The show dominated social chatter, trending regularly on Twitter both globally and in the UK. It attracted 215k Twitter followers plus 250k Facebook fans.
There have also been over 113 million global YouTube views to our video content since launch.
Series two is going to be even bigger online than last year. Fans can look forward to more exclusive online videos, informal backstage images and content created especially for our Facebook and Twitter fans to make the experience feel more personal and fun.
We're also expanding our social media platforms to include Instagram, Pinterest and Tumblr.
Content will be tailored to each platform: showcasing our style and fashion related content on Pinterest, delivering more light hearted fun content and animated gifs on Tumblr and giving fans access to a wealth of backstage pics via Instagram.
We're bringing the content to the fans so they can connect with The Voice whenever and wherever they choose.
This year, we will also be introducing a new live blog that will curate the best social media content and conversation from across the web and showcase it on The Voice UK website.
A great example is the recent Q&A with David Attenborough run on a live blog alongside the BBC One show Africa. User's tweets, questions, pictures and even clips can be pulled into a stream and displayed on the BBC website.
On top of all this we're launching a brand new companion experience called The Voice Predictor Game.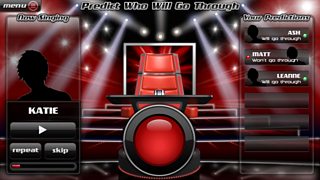 The Voice Predictor Game

We're always looking for fun and exciting ways to expand the viewers' experience beyond TV, especially as more and more internet connected devices make their way into people's living rooms.
How can we tap into the passions and behaviours that the show inspires and give people something extra?
The Voice Predictor Game builds on the success of the recent Antiques Roadshow play-along game and will be available on the BBC Voice UK website as a Flash game and later on mobile iOS and Android devices to downloaded as an app.
As we saw with the blind auditions in series one, fans really loved the idea of second guessing the coaches. They also liked the idea of experiencing the show as the coaches do: listening to the artists without seeing them. Cue the audition predictor game.
Players get to listen to six exclusive audition previews from the upcoming show and have to predict, based on their voices, whether or not the acts will make it through on Saturday night.
They can share their predictions on Facebook and Twitter and see how well they know the coaches by tuning into to Saturday's show.
Viewers can also play-along during the show. As each artist auditions, the players have to predict which team they will end up on.
We're hoping the game will appeal to our younger fans but also mirror the success of other BBC companion experiences, such as the Antiques Roadshow play-along game where we saw mainstream BBC One audiences getting involved, making their viewing experience even better.
We'll be updating you throughout the series, sharing developments and letting you know how it's going. We're hoping lots of you will want to join in, either by predicting who will get through via the app, or joining the conversation on social media.
It's always great to hear what you think, so looking forward to hearing your comments below.
Where to find us...
Sarah Clay is online exec for BBC Drama and Entertainment.