The world is your oyster... isn't that how the saying goes? Well it is in the rapidly changing world of digital technology. Which either means the BBC's mission to inform, entertain and educate is harder than ever, or has never been more exciting.
This is why I am delighted we are opening a BBC Blue Room in Salford. As regular readers of the Internet blog will know it's a concept we launched nine years ago in London - creating a space combining both the latest consumer technology and digital know-how to ensure BBC staff and invited guests like community groups could see, use and learn about the latest technologies that will fundamentally influence the content we make, and how it is consumed by our audiences.
This week we are launching the next generation of BBC Blue Room in Salford, which is not only a specialist facility that will showcase consumer and broadcast technology, but will allow our nearly 3,000 strong staff to get to grips with new kit and try out their ideas on platforms before it arrives on the high street - which is crucial when what we are seeking in the rapidly changing digital world is the most inspiring, informative, entertaining and educational content we can create.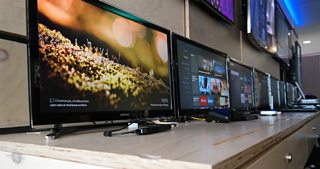 Screens in the Blue Room North
Imagine a world where the wallpaper in your living room changes to match the background of the programme you're watching on TV - what does it do to your viewing experience, what content does it work with, and what not? How might we use it to change your viewing experience? Or what about ultra-HD - how do we have to change the way we make programmes to make the most of this new format? Some of these are questions about what we make, others about how we make it... but all are types of things we'll be using the Blue Room to provide insight and answers.
In practice this means trying out new ideas, on new kit, in new ways - putting ourselves in the shoes of our audiences before they do, which is why the Blue Room will include the latest cameras and ultra-HD displays, as well as many different platforms on which content can be viewed such as Twitch, Vine, and BBC iPlayer, to name but a few.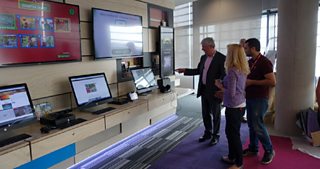 Tony Hall recently visited the Blue Room North
But it's not just for BBC programme makers and developers - it's about the future, and who better to be sharing it with than the people who will be coming up with new BBC programme and content ideas in the future - like the 6 year old kids who were recently hailed as more tech-savy than 45 year adults. This is why we will open up the BBC's second Blue Room to local schools across the Northwest to have their own encounter with next generation consumer technology, to open their eyes, inspire them, inform them, educate them and maybe just entertain them. How important are games consoles such as Xbox One and Playstation 4 which blur the lines between gaming, social interaction and consuming content going to be? What will they make of new virtual reality technologies from Oculus Rift, or wearable technology such as Google Glass?
Overall our aim is to show local children, as well as BBC staff that the digital world really is their oyster and it's never been more exciting to create and share content - you just need a chance to lean into the future - which is exactly why we have the BBC Blue Room.
Alice Webb is Chief Operating Officer, BBC England